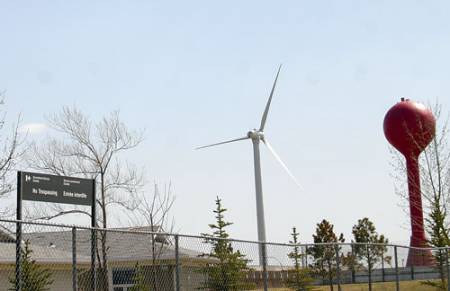 People driving to Drumheller from Highway 9 South may have spotted the wind turbine located at the Drumheller Institution rotate last Friday.
    After months of delay due to a faulty part during performance testing, the wind turbine is now ready for its final phase of commissioning.
    Dawn Bancroft, chief of administration at the Institution told inSide Drumheller engineers finished installing the replacement part last week and the turbine now needs to run for 500 hours for the contractors to review the operation.
    "I think it will be giving some electricity at this point, but what they are doing is making sure that everything is working properly and that it is producing the power it needs and going to the right holding facility," she said.
    Bancroft explained that the turbine only powers itself when the wind velocity reaches a certain level, adding, "People may also notice that when it is really windy, it is not turning because at a certain point if the velocity of the wind is too high, it stops turning as well."
    The turbine was installed in December 2009 to help offset some of the institution's power costs, as well as improve its ecological footprint.