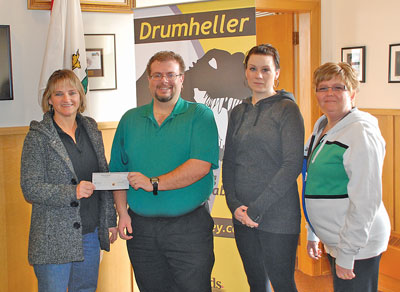 The Drumheller Minor Hockey Association has generously committed $75,000 over the next five years to the Badlands Community Facility.
    The announcement was made on Wednesday, March 3 in the Town of Drumheller Council Chambers. As Minor Hockey is a major user of the facility, president Linda Lacher said it's fitting they are contributors. There are about 180 participants in Drumheller Minor Hockey.
    "Drumheller has a very high demand for ice time," said Lacher. "The arena is used by Minor Hockey, the Dragons, fun league and figure skating. The different components will help all organizations with game times, practice times and activities such as dry land training."
    This season, Drumheller Minor Hockey is hosting the Bantam B Division provincial tournament, March 19-21. Shallyn Schinnour, special event coordinator for Drumheller Minor Hockey, feels having the Badlands Community Facility will allow them to host more of these kinds of events, especially with components such as a banquet facility.  Attracting these kind of events are a boon economically for the Town of Drumheller.  For this tournament, organizers needed to block 150 hotel rooms alone. 
    The donation of $75,000 is over five years. Lacher says the funds will not come from registrations. It will come from concession revenue as well as other fundraising endeavours. They have earmarked the funding to be directed towards the second ice sheet project.
    Chair of the Badlands Community Facility Fundraising Committee, Jeff Hall, is appreciative of the donation for the facility.
    "It's fantastic when we get money from any source, but for Drumheller Minor Hockey to step forward and show their commitment is great," said Hall.
    "Minor Hockey realizes the importance of being behind a project like this, and we are very happy they have financially supported the Badlands Community Facility."
    Hall says they have just started their campaign and are contacting 10-15 organizations a week to meet their target of $12 million. So far, they have raised about $1.7 million. Site preparation work is already completed. The initial facility will include a new public library, a field house, running track, fitness centre and meeting facilities, followed by a second arena and curling facilities, as funding becomes available.
    Lacher hopes the Minor Hockey donation will inspire more support.
    "We hope the other user groups can step up and show support for the facility," she said.