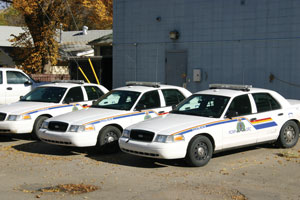 A partnership between the RCMP and the Alberta Sheriffs has been struck to improve safety on the roadways.    

    The RCMP Traffic Services High River and Strathmore have joined with the Alberta Sheriffs in creating an Integrated Traffic Unit. The Strathmore RCMP Traffic Services serves the Drumheller area, and will now be bolstered by the Alberta Sheriffs.
    Other communities served by the Integrated Traffic Unit include High River, Okotoks, Black Diamond, Turner Valley Nanton, Gleichen, and Chestermere.
    Staff Sergeant Art Hopkins says the Drumheller Detachment is not involved in the Integrated Unit, although both the local detachment and the Integrated Unit will be doing enforcement in the area.
    The new Integrated Traffic Unit will be focusing their efforts on enforcement and education pertaining to traffic safety. They request that drivers do their part to ensure the province's roads are as safe as possible by wearing their seatbelt, abiding by speed limits, stopping completely when required, and not drinking and driving.