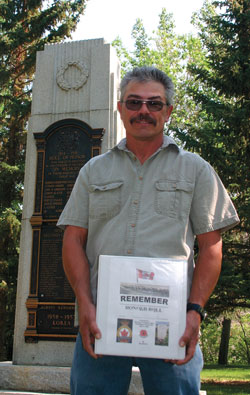 Reg Bennett's work to bring the stories and history of those who served in armed conflict for Canada have reached a larger audience .
    The Mail brought readers the story of Bennett in its August 5, 2009 edition. Bennett has produced so far 17 Honour roll books for rural communities, largely in Alberta. He has presented them to the communities, either through the area Legion or to libraries or the local museum. In all he has researched 766 names.
    He was inspired to do the work while researching his great uncle, who is also his namesake. While taking in a Remembrance Day Ceremony in Drumheller he was struck by the incomplete nature of the Honour Roll used in the ceremony. For many of those served, listed was often only a last name, sometimes a first initial, and rarely a rank.
    He set at working on his first Honour Roll Book for the Town of Drumheller. He presented it to the Drumheller Legion 10 years ago to the day, on this Remembrance Day.
    Now his work reflects the service of men and women in 30 communities. This year alone he completed and presented Honour Roll books to the communities of Delburne (Ardley, Elnora) Wainwright, Oyen , Youngstown, Hanna, Alliance (Galihad), Lougheed, Provost (Czar) and Sedgewick. Currently he is working on books for Carbon, Strathmore, Cochrane and Three Hills.
    For all his work he has acquired a great knowledge of the service history of the men and women he has researched. He has also met many friends and family of service men, and he receives new information constantly. He says no book is complete, and welcomes those who have more to offer to come forward with additions pictures, corrections or omissions.
    He is excited that his work now has the potential to reach a much wider audience.        Earlier this year Bennett partnered with The Drumheller Mail, and now his Honour Roll Books and research have been published online on The Drumheller Mail web site.
    Readers are now able to the access the Drumheller Honour Roll Book page by page as well as the burial list of those who were killed in battle.
    To access the archive, log on to www.drumhellermail.com and under the community heading, select veterans and servicemen.
    Make sure you check back often as we are just in beginning stages..