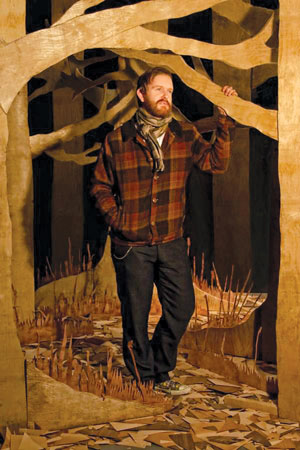 CKUA presents a live performance by Calgary indie-pop masters Woodpigeon Friday, December 3 as part of TransCanada's Alberta Backstage Series.

    Grant Stovel hosts the concert, which is free and open to the public, broadcasting from the East Coulee School Museum at 8 pm.
    Founded in 2005 by Mark Hamilton, Woodpigeon combines the musical talents of a rotating collective with guitars, drums, mellotrons, singing children, harpsichords, bells, whistles, handclaps and girlish vocals to create sounds that float somewhere between chamber pop and alt-country.
    To date, Woodpigeon has recorded three full-length albums, four EP's and a rock opera about pirates, and has performed at NXNE, SXSW, End of the Road and Sled Island (which Hamilton also curated), earning listener and critical acclaim world-wide.
    TransCanada's Alberta Backstage Series, featuring music and interviews with Alberta's finest musicians, airs 8 pm to 9 pm every Friday evening. On the first Friday of each month, Alberta Backstage presents a free concert, featuring an Alberta musician or group, which broadcasts live on CKUA; these concerts take place throughout the province.
    This series is made possible by support from TransCanada.
    For more information about CKUA programs and frequencies or to listen online, please visit www.ckua.com. Check out CKUA on Facebook at www.facebook.com/CKUARadio or follow the Network on Twitter at www.twitter.com/ckuaradio.