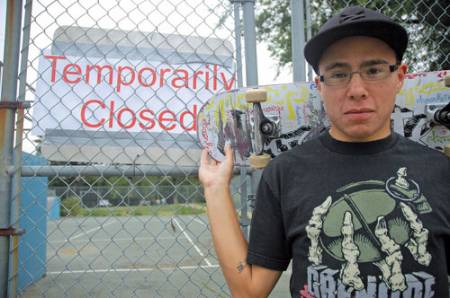 Being a skateboarder in Drumheller today is a grim prospect.
    Rough roads, a rougher "skatepark", and no plans for a new park in the Badlands Community Facility have left some youth with no other choice then to find a new hobby.
    "People quit," says skater Aaron Danchek, 16.
    "They move onto biking because skateboarding in Drumheller is pointless really."
    While construction is underway on the community facility, the Kinsmen skate park was moved to a tennis court behind the Memorial Arena.
    Its cracked pavement and small size make riding impossible; hazardous even.
    The gaping cracks are in front of the biggest ramp there, but not exclusively.
    Hitting one with the skateboard's little tire would inevitably cause the rider to eat pavement.
    "And skateboarding isn't the safest sport to begin with," says Aaron's mother Darlene Danchek.
    "Aaron's resorted to building his own park at home and leaving town to skate."
    Die-hard boarder Sonny Spooner, 20, burns a tank of gas a week to support his skating need.
    In a week he'll drive to Strathmore, Three Hills, and Langdon; the latter two having a population roughly half of Drumheller's.
    Three Hill's park is more than enough to quench Spooner's thirst, and during the day it's even run by senior volunteers.
    "The town needs to listen," Spooner says. "It doesn't even seem like they looked at the pavement when they moved the park to the courts."
    Yet it's open, which implies the town believes it's fit for use.
    Allan Kendrick, Infrastructure Services director, said Friday the town will have their playground inspector take a look at the skate park.
    By Sunday a "temporarily closed" sign was hanging on the fence, with the gate locked.
    Paul Salvatore, Community Services director for the town said they do recognize an interest in improving the skate park, but a concrete group of lobbyers will need to make themselves heard by the town.
    "The focus has been moving forward with progress on the community facility," Salvatore says.
    "We need skateboarders to tell us what makes sense to them."
    Salvatore says the possibility of having skateboarding incorporated into the Badlands Community Facility is there.
    "We have just scratched the surface of the plans for the facility."
    With a lack of free, simple summertime activities like usable tennis courts or basketball courts, it causes kids to find different ways of spending their long summer hours says Darlene Danchek.
    "We need things like an outdoor basketball court, all they need is a ball to play. Many families can't afford to enroll their kids in hockey or other sports."
    Skateboarding thrives as a sub-culture. It's a lifestyle, if you skate, you're brethren. Inspiring new moves, techniques, and camaraderie is an aspect missing from Drumheller.
    "We just need somewhere to skate," says Aaron.