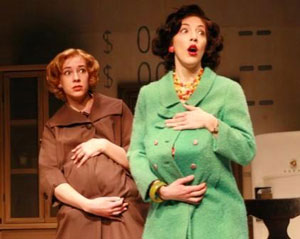 Remember when comedian Lucille Ball in I Love Lucy started work at the chocolate factory with Ethel? Soon, they were doing wacky things to keep up with the assembly line.
    Every move they made escalated into even more outrageous consequences. This spring, Rosebud Theatre renews this laugh-a-minute scenario with We Won't Pay! We Won't Pay! playing from March 12 to May 15.
     Director, Karl Sine, describes the show as "a wild and zany story about normal people finding themselves in extraordinary situations. The neighbourhood has erupted into a domestic revolution that feels like The Honeymooners meets I Love Lucy.
    Two crazy women and their hapless husbands are doing everything in their power to eek out a meagre existence, and if that means they have to break a few rules along the way to make ends meet, then so be it! Desperate times call for desperate measures. And after navigating through all the laughs and absurd situations, in the end, the play is really about love, friendship, family and loyalty, something we can all relate to and understand."
    The comedy of classic television shows such as The Honeymooners and I Love Lucy had audiences doubled over with laughter. Simple antics and comments intensified tenacious situations to the extreme and created unimaginable outcomes. The humour in We Won't Pay! We Won't Pay! will do the same for Rosebud Theatre audiences.
    When a neighbourhood of women revolt against the rising price of groceries at the local supermarket, two couples get swept up in the whirlwind revolution of the day. With each move, the couples get pulled deeper and deeper into a powerful vortex of utter chaos and absurdity.