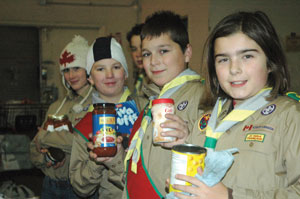 Thousands of pounds of food was gathered on Thursday evening as volunteers for the annual Food Drive blitzed houses and businesses, helping shore up food bank supplies for the increasing activity of the service.

    Over 100 volunteers filled the empty Liquidation World shipping dock, sorting and packaging the non-perishable food items.
    "It is hard to put into words the joy it brings to be a part of such a special event," said Salvation Army Lieutenant Matt Sheils. "Thank you Drumheller once again for your generous food donations."
    From January to October, the food bank has seen an increase of 26 per cent in activity from the same period last year, and as the cold and festive months arrive, the food bank shelves are sure to take a beating.
    "We have received less than we did last year, about four skids less," which is a lot, says Sheils. "We are asking those who are able to get a few more food items to do so."
    The needs of the people in Drumheller have risen, and there is still more work to be done, says Sheils, adding that non-perishable food drop-off locations are at every grocery store, and at the Salvation Army church and thrift store.
    Items in special need are cereal, tuna and Hamburger Helper, cookies and crackers, Chef Boyardee or any canned pasta, juice, granola bars and kids lunch snacks.
    People can keep posted on the efforts of the organization through their new website, www.drumsa.org, which tracks and compares food stocks and needs of this year to last's.
    The Salvation Army would like to thank Heather Colberg and her army of food collectors who went all over Drumheller, Carbon, Morrin and Rosedale collecting food last Thursday evening. "This could not have been accomplished without them," says Sheils.