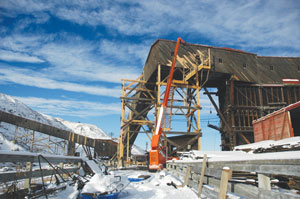 The ingenuity and brilliant design put into the Atlas Coal Mine was all relived as restoration work on the tipple structure at the historic site  finally wrapped up this week.

    Metal scaffolding, which supported one of the best preserved mining structures in the world for the last decade has finally been replaced by   historic restoration contractors Macdonald-Lawrence Timber Framers.
    "It's like after breaking a foot and being able to walk without crutches again," said Jay Russell of the Atlas about the $300,000 project – paid for through the federal government's Economic Stimulus Fund Cost-share Program and Alberta Historic Resources Foundation.
    "The government seems to get that historic construction is sometimes better than new construction, as it is more labour intensive, and less materials intensive," says Atlas Executive Director Linda Digby.
    Digby says the Atlas could not have found a safer bet for construction than the historical restoration buffs at Macdonald-Lawrence .
    "They truly are masters," said Digby of the company who has handled major historic restoration projects from work on Windsor Castle in the United Kingdom, to the Bastion in Nanaimo – B.C.'s oldest building. "It's nice to have that kind of confidence."
    Finding the new Douglas Fir timbers amidst the nearly 75 year old tipple is easy – transparency is the best policy when it comes to restoration of historic buildings, but every detail from the species of wood, where timbers came from, dimensions of the original beams are identical.
    "We take a lot of care to replicate details," says Steve Lawrence, an owner of the specialized company. "We're thinking of the historians who will be looking at the structure in the long term."
    New work on the tipple has been carefully documented to allow historians to see exactly what is original and what is new. Old timbers which were moved, were numbered, same with new pieces. The bright light-brown of the new pieces will fade to the original's black within a few years.
    The long timbers, one 43 feet long, had held up strong in East Coulee's dry climate, but water collected in joints of the 1937 structure had slowly rotted away – threatening collapse if it hadn't been patched up by metal scaffolding in 2001.
    "It was in pretty bad shape," says Lawrence. "But you see that the guys who built it were quite skilled to have it last close to 70 years."
    "This kind of work gives you a clear insight into the original builder's skills and methods," he said.
    "The level of engineering, the brilliant design that went into the tipple... When engineers look at blueprints, they are amazed with the intelligent design," says Digby.
    No one expected the tipple to last, "to stand on legs in perpetuity," Digby says, but it is uniquely Drumheller's, and is of international significance because of the level of preservation it holds.