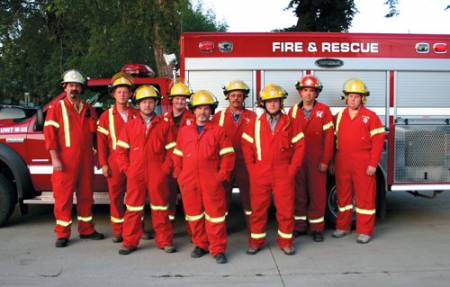 The Rockyford Fire Department has outgrown its fire hall, and is on the way to constructing a new one on Main Street.
    The department has been actively fundraising, and according to one member of the department, Robert Koester, they are well on the way to making the new hall a reality.
    Eventually it will be there," said Koester. "We're in the engineering stages right now."
    "Most of the funds are in place."
    The new hall will be on a corner lot on Main Street in Rockyford, and will be about 60 feet by 116 feet. It will house the newer apparatus as well as provide office and meeting rooms, and a training area. He says the new hall will cost in the area of  $700,000-800,000.
    Koester says the need for the new hall is precipitated by the larger modern firefighting equipment. Currently the force has a pumper, a pumper tanker, a bush buggy and two rescue units with vehicle extrication equipment. The force has about 14 members.
    "We respond to fires, motor vehicle accidents and we do medical assistance for Wheatland first responders," said Koester.
    The department responds to emergencies from about four miles north of Highway 1 to the south, and to Highway 9 on the north.