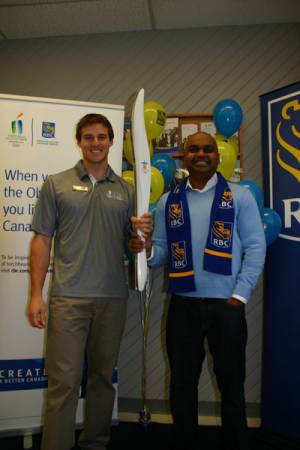 It was announced yesterday that Rav Lal is the first named person from Drumheller to carry the torch on the Olympic Relay.
    Lal, who works in the IT industry, will be carrying the torch on January 16, 2010. He said he has known for three weeks and laughs that it was hard to keep it a secret.
    "After a bit of jumping around and screaming, the first people I told was my kids obviously," said Lal. " It was very hard to contain myself, it is great honour."
    The announcement was made at a ceremony at RBC in Drumheller, which included RBC Olympian Brad Spence, a member of the Canadian Alpine Ski team. He commented on the meaning of the torch to him.
    "For me the relay represents the fire in me that burns every day as I reach for the podium," said Spence.
    Lal was able to hold the torch for the first time at the ceremony for the crowd that gathered which included members of the Drumheller Olympic torch run committee and RBC regional vice president Doug McLean.
    In the application, the perspective torchbearer is asked to make a pledge to his community to make a better Canada.  Rav pledged to urge people to donate used electronics to charity or for recycling. He also pledged to start giving free computer classes to seniors in the community, giving them the tools and the knowledge to communicate with their families and the world.
    "I made a pledge that was meaningful to me and even if I was not selected, I'll stick with it," said Lal.
    He says he will not know which segment of the run he will participate on, but it will be made known to him six weeks before he is to take the course.
    The Olympic Torch Run commences in Canada on October 30, 2009, and will travel 45,000 kilometres and 12,000 Canadians will get to carry the torch along the way. As of Friday, the torch will arrive in Drumheller in 140 days.