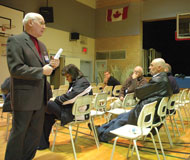 Gathering in the gymnasium of St. Anthony's School, the Badlands Community Facility Steering Committee heard Drumheller's concerns and thoughts at the first of three public meetings regarding the much-debated community facility.
Mayor Bryce Nimmo, along with some of the eleven members of the steering committee and five Town Councillors, presented their vision of the possibilities a multi-use "hub" would bring to the tourist based economy of Drumheller.
"This meeting will give us an opportunity to find out what the facility should look like, we don't know that yet," Nimmo said.
Facility priorities outlined for the twelve people in attendance were the hot-button words "multiuse", "social hub" for community, cultural and recreational activities, and to provide services to satisfy the majority of users.
Overviewing the 2008 Census Survey which indicated the citizen's top-wants for the facility are a community centre, aquatics upgrades, a second ice sheet, a fieldhouse (used for soccer, lacrosse, running, etc.), and an indoor children's playground.