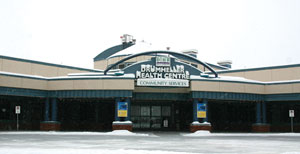 Renovations at the Drumheller Health Centre's emergency department are currently underway to bring the facilities up to the Canadian Emergency Department Triage and Acuity Scale (CTAS) standard with the creation of a triage room. 
    This will provide an area for patients' needs to be assessed by a registered nurse and for their treatment to be prioritized based on the severity of their condition.
    The CTAS standard was developed by the Canadian Association of Emergency Physicians. Its objectives are to "more accurately define patients' needs for timely care and to allow emergency departments to evaluate their acuity level, resource needs and performance against certain operating objectives".
    As this triage standard did not exist for rural communities when the hospital was built in 2005, the Drumheller Health Centre carried out triage at a desk inside the emergency department.
    To get in line with the CTAS standard, work was started a few months ago and was put on hold during the H1N1 pandemic to be resumed in December.
    Bev Krabsen, site manager at the Drumheller Health Centre, explained to inSide Drumheller  that the admitting area will be moved to the new section and will include a glass room for triage to give more visibility.  The current admitting area will become an extension of the waiting room area and thus will increase its capacity.
    Due to tight infection control, Krabsen explained renovation work in the department has been barricaded off and staff has worked hard to keep the flow going as smooth as possible.
    Since the new facilities were built, the number of patients seen in the emergency department has increased dramatically. 
    Fortunately, the Drumheller Associated Physicians drop-in clinic has helped relieve some of the pressure on the emergency department. 
    The clinic, located on Riverside Drive, runs every week day from 1 p.m. to 5 p.m., should be the first place of call for patients who would normally see their own doctor but are unable to get an immediate appointment.
    Once the triage renovations are completed, the next project at the Health Centre is to expand the waiting room area.