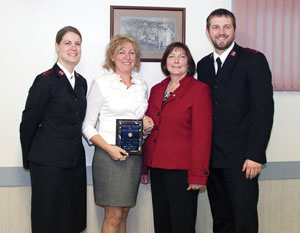 The results are, in and Heather Colberg has been named Drumheller's 2010 Citizen of the Year.
    The annual awards and gala, hosted by the Drumheller Rotary Club on Saturday, May 8 at Rosedale Hall, was a celebration of Drumheller residents taking pride in their community. Along with Colberg, Melanie Monaco was named Most Courteous Employee.
    "It's a honour the Rotary Club does this for people," Colberg said. "I am honoured to receive it.'
    Colberg is involved in the community would be an understatement. She has always been visible helping within the community. As a mother, she has been involved with a number of sports teams in the valley including the Drumheller Dragons and currently she coaches a St. Anthony's volleyball team. She has also supported campaigns for the Morgan Jayne Project.
    About five years ago she took over the annual food drive in Drumheller to support the food bank. She rose to the challenge.
    The food drive has flourished. Before it was a week long endeavour, now dozens of volunteers come out for the event and within an hour the entire Town of Drumheller and some outlying communities have been canvassed and food has been collected. Last year she spearheaded a mid year food drive that now helps the Salvation Army replenish the stock of food.
    Lieutenant Rachel Sheils of The Salvation Army nominated Colberg. She said the two major food drives stocks up to 70 per cent of the food bank's supplies. Without Colberg, Sheils said the food bank wouldn't be able to function.
    Sheils said, "Her (Colberg's) motto is 'be grateful of what you have, and give back what you can.'"
    Colberg is gracious in her acceptance of the award, and honoured to be in the presence of her fellow nominee Rita Pallesen.
    "Rita's credentials are very impressive. She has done a lot, and committed a lot of hours and helped many people, so I was really surprised (to receive it)," she said.
    She humbly laughs when telling The Mail, it was because she is "loud and noisy," in her organizational skill and style.
    "I believe that I wouldn't be able to do this without friends, family and community," she said.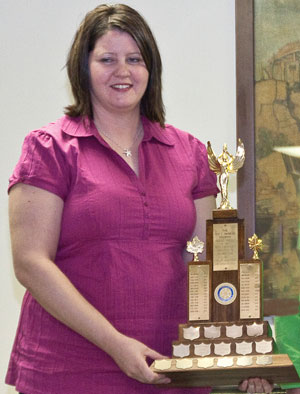 Colberg was not the only one celebrated at the annual event last Saturday. Melanie Monaco of ATB in Drumheller was the recipient of the Most Courteous Employee award. Leigh Wonnacott was the runner up.
    Monaco was nominated by Drumheller resident Dorothy Bergos, and she presented the award.
    Bergos joked that she never forgave the ATB for moving across the tracks to its present location, but the quality of service has remained, and to her that is in a large part because of Monaco
    "She is so helpful," said Bergos. "She is helpful when it comes to tax time, she helps us when we are going on a trip or when we need a money order. She is very knowledgeable, very accommodating and always happy."
    She also had kudos for the ATB in general. Bergos told The Mail one addition to the branch she is very happy about is simply the small seating area at the entrance. As she and her husband have mobility issues, this small gesture has made a difference in her banking experience.
    "I was very happy to nominate her and even happier that she won," said Bergos. "Her helpfulness is what we appreciate."
    Last year's Citizen of the Year was Olga Rowse, and the Most Courteous employee was Kellie Smith.