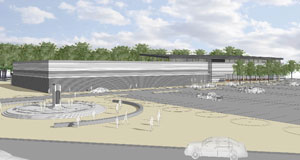 Tenders for the Badlands Community Facility have been released and in about a year and a half, Drumheller will have a community and wellness/ fitness centre to be proud of for generations.
    Mayor Bryce Nimmo told The Mail the tenders for the Badlands Community Facility were released on Friday, May 7. This means the project documents are available to interested contractors to formulate a bid on building the first stage of the facility.
    This includes the community centre, field house, fitness centre and library.
    "It is a good news story," said Nimmo.   
    "We feel that by getting it out at this time we hope to benefit from what seems to be lower bidding happening in the province. Things have slowed down and people are looking for work, and the earlier in the year we release it, the better chance you have for more people bidding on it."
    The tender packages are available to contractors at the Town of Drumheller office, and are listed on the Province's Alberta Purchasing Connection (APC) web portal.
    Nimmo said architect Graham Edmonds Cartier has indicated a number of contractors have shown interest. While the documents were only made available to contractors on Friday, by Monday morning, Clark Builders out of Calgary is already listed as an interested contractor on the APC web site.
    Chair of the Badlands Community Association Tony Lacher is excited the tenders are out, and is confident the bids will be competitive.
    "We are finally out of the chute," said Lacher. "What will tell the story is where the bid comes in, we are hoping to be down in our costing."
    "We are hoping to get a lot of interest because that will really drive the pricing."
    He said they hope to see progress on the site by next month. The fact that some of the groundwork was completed last fall, building up the site, will help speed up the project. Lacher also said soft work such as utility routing has already begun. They have a goal to have substantial completion by March of next year followed by a summer opening.
    He explains to qualify for one of the grants for which it has received approval, a substantial amount of the project needs to be completed within a 24 month window of the initial grant approval.
    The first phase of the project includes a field house with dividable gymnasium space that can accommodate everything from indoor soccer and lacrosse to basketball and volleyball. There will also be a fitness centre and studio, a running track, library and gallery space. There will also be ample space for a banquet room that can accommodate 500 people as well as meeting rooms.
    "This is the first part of our overhaul of the area which will include in the future, a second sheet of ice and a curling rink," said Nimmo.
    The closing date for bids is June 1.