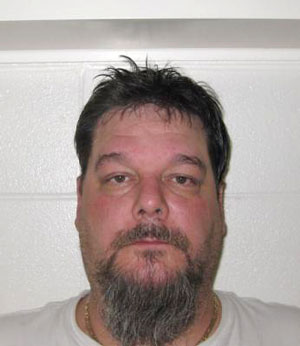 On Thursday, March 10 at approximately 8:00 p.m. Fort Saskatchewan RCMP responded to a report of an escaped prisoner who had been in the Edmonton area earlier in the day on a temporary absence pass from the Drumheller Correctional Institution.  The prisoner, William Wade Bicknell is presently serving a prison term for second degree murder.
On the return trip from Edmonton to Drumheller, Bicknell overtook the lone Correctional Services employee accompanying him, and gained control of the vehicle they were traveling in.  
The pair made their way back to Edmonton, with the escort as a hostage, where Bicknell acquired several firearms and an quantity of ammunition.  The two then traveled to a rural residence in the Chipman area, northeast of Edmonton, where Bicknell forced his way into the residence and forcefully took vehicle keys from the homeowner.  It is believed that Bicknell knew the homeowner.
Prior to leaving the residence, Bicknell disabled the telephone and corrections vehicle and left both individuals with instruction to not call police. He fled the residence in a 2009 Grey Chevrolet Impala Alberta Licence CXE - 602 leaving both the homeowner and corrections employee uninjured, who later contacted RCMP.
Bicknell's whereabouts are presently unknown and he is considered to be armed and dangerous.  Anyone with any information on the whereabouts of this individual or vehicle sighting is asked to contact the Fort Saskatchewan RCMP at 780-992-6100 or police agency in your area or call Crime Stoppers at 1-800-222-8477.
William Bicknell is a forty-two year old first time federal offender serving an indeterminate sentence for Second Degree Murder. His sentence commenced on 2003-10-03. He is 6'6 tall and weighs 402 lbs. He has brown hair and hazel eyes with a fair complexion. He has a number of tattoos including full sleeves on both arms, a unicorn on his left shoulder, a cobra on his left arm, and a heart on his chest. 
The authorities have been notified and the Correctional Service of Canada will continue to work with police in an effort to locate the offender as quickly as possible. Anyone with information on the whereabouts of BICKNELL is asked to contact their local police department.
The Correctional Service of Canada will review the circumstances surrounding the incident and will take necessary measures to address any safety and security issues stemming from this incident.
Drumheller Institution is a federal penitentiary located 140 km northeast of Calgary, currently accommodating 503 medium security and 64 minimum security inmates.