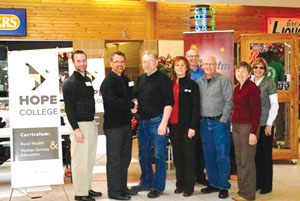 Hope College is moving forward with support from the community.

    Last Thursday, March 3 Hope College hosted an open house at Greentree Mall to help field questions from the public and garner support for a grant proposal.
    They received support in words and in funds.
    "It seems that the wheels are turning very quickly and there is a lot of momentum. You start these things, and it is like starting a car in -30, you get the oil warming up, and that is where we are at right now," said Jon Ohlhauser, project leader. "We had a very successful open house at Greentree Mall, and we had a lot of people come by and a lot of comments from young people saying this is the 'talk of the town', and we were very encouraged with that kind of news."
    Jordan Webber of Community Futures Big Country said in the past week, the group has raised about $87,000 in pledges towards the initiative. This includes donations from the Town of Drumheller, which committed $15,000 over three years. The largest contributor to date is the Drumheller and District Chamber of commerce, which gave $30,000.
    The goal of the Hope College is to raise $300,000 over the next three years. They are also hoping to garner moral support.
    "We are looking at raising 500 statements of support. These are from individuals either on our Facebook page, or on our website, or when they see us in person. They sign a paper that says 'I register my support for this college in Drumheller,'" said Webber.
    These statements of support will be included along with their grant application to show the community is behind the project. Hope College has applied for a Rural Alberta Development fund grant for
$1.1 million.