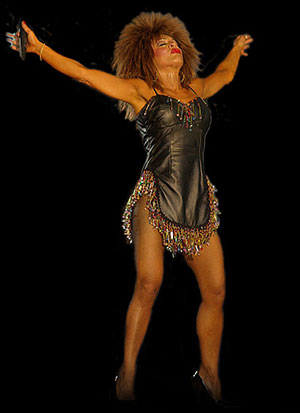 While they might be aching by the time the Tickled Pink Relay for Life team has made its way around the track, their legs are what carry them on their march to battle cancer.

    They have found some of the most famous legs in the business to help them along in their goal to raise funds for cancer research.
    Well, almost the most famous.
    Tickled Pink are bringing Truly Tina, an award winning tribute to Tina Turner to the Stampede Barn on Saturday, March 5, and they are getting out in front of the Christmas rush to get tickets to music fans.
    It is difficult to argue that Tina Turner does not have the most famous legs in the music industry, and she strutted them for five decades. Samira "Truly Tina" has followed closely in that tradition, bringing her stage show that has won international awards to the Stampede Barn.
    Debbie Herman of the Tickled Pink Relay for Life team is a big Tina Turner fan, and saw Truly Tina in Camrose at a casino this past fall. She was impressed and immediately began brainstorming on bringing her to Drumheller to perform.
    "It was something that would be totally different, and a great fundraiser for Relay for Life," said Herman.
    They made contact, and arranged a date.
    Truly Tina steps out of Tina Turner's most prolific time as a solo performer. The look, the sound, the mannerisms all harken back to the private dancer of the 1980s, complete with the outrageous outfits that show off the virtually identical stems.
    Truly Tina has performed all over the world including China, the Middle East and Australia to name a few. She won back to back Reel Awards in Las Vegas for best rock and roll celebrity impersonator.
    "I am a huge fan (of Tina Turner) and that's why I went the first time, and I was enthralled," said Herman. "She is a good entertainer and she engages the crowd. She does two 40 minute sets and the time just flies by."
    A full evening of fun is planned for Saturday, March 5, and it is all for a good cause. This is the fifth year Tickled Pink has participated in the Drumheller Relay For Life, as one of the original teams. They hope the event puts the Relay for Life in the mind's eye for those thinking of putting together a team this year.
 Cocktails are at 5:30 p.m. followed by dinner, catered by Double D Catering, and then the show.
    "It is a unique Christmas gift idea for the person that doesn't know what to buy."
    For more information or tickets, contact Shari at 403-820-0127 or Debbie at 403-823-8484.