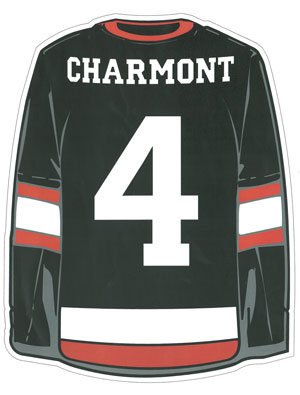 A Calgary radio station has found a unique way to support the memory of the Charmont family.

    CJAY 92 is donating a third jersey to the Encana Atom Raptors, John Charmont's former team.
    According to assistant coach Paul Salvatore, the station wanted to purchase the jerseys, and is giving the team a chance to select a custom design.
    "It will be the only minor hockey team in Drumheller that will have this third jersey," said Salvatore.
    The Drumheller Minor Hockey Association was deeply affected by the tragic passing of Chris and John Charmont, as friends, coaches and teammates felt the void. They have banded together to find a way to support the Charmont family and memorialize their former colleagues. This includes a patch they proudly wear on their jerseys in dedication, as well as plans to retire John's jersey. The third jersey will be incorporated into this tribute.
    He said CJ92 approached the team with the  idea and is planning to support the project through its charity project. The team sought the blessing of the Charmont family and Drumheller Minor Hockey.
    "They fully supported moving ahead with that, they thought it was a good way to give the members of the team something special, and we would make sure the number four would be in the design," said Salvatore.
    The players are working on the jersey with help from Image Crafters in Drumheller. They will be following the Drumheller Minor Hockey color scheme, "and we are going to let our imaginations run wild on what the design might look like," said Salvatore.
    They are hoping to plan the unveiling of the jersey to coincide with a ceremony to retire John's jersey.
    "We are going to ask the Charmont family, Terra and Megan to drop the puck, and we are extending an invitation to the community to attend that game," said Salvatore.
    They are still working on the date, but it looks like the ceremony will happen in February.
    Salvatore is appreciative to CJ92, and the gesture shows just how much of an impact the tragedy has had.
    "It further reinforces how far afield (the effect is) not just in Alberta, but people overseas were touched by everything that happened and wanted to do something positive," said Salvatore.