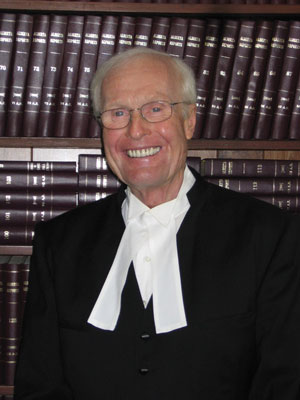 Local lawyer Stan Schumacher has reached a significant milestone, as on December 15 he will have spent 50 years as a member of the Bar.

    While his political career has taken him to Edmonton and Ottawa, he has been a constant in the legal community in the valley, spending all but four years of his practice working in Drumheller.
    Schumacher was born in Hanna, but grew up in Dorothy. The family moved to Drumheller in 1946, when he was 13.
    After school, he attended the University of British Columbia. He laughs and says he decided on pursuing law so he could stay in university a little longer. After three years of studying commerce, he went for law.  By his third year, however he was itching to get home.
    The date of him being called to the bar has a story behind it.  While most enter in the spring, he didn't start on his articles right away because there was a provincial election, and Ian Toshach who was Mayor of Drumheller was running for MLA against Gordon Taylor, and Schumacher acted as his assistant. Toshach did not win, and Schumacher then again attempted to work on his articles, but family responsibilities beckoned.
    "On my first day of articling in June, it was a Monday, and at two o'clock in the afternoon my mother phoned me in tears saying my dad had been in a very serious accident and at death's door. I had to come home to look after things. I was on the road back to Drumheller on my first day of articles."
    He was able to get back to work in November of 1959, and on December 15, 1960, the Honourable Mr. Justice Harold Riley called him to the Bar.
    Schumacher spent about two years practising with Woolliams and Kerr in Calgary,  (Eldon Woolliams was MP for Bow River Calgary), and then moved on to work with the firm of Knaut & Knaut in Camrose, before coming to Drumheller.
    "The reason I went to Camrose is to get some rural experience. Rural practice is different than city practice, so I had a little over two years experience there," he said.
    In coming to Drumheller, he hoped to join W.R. Sandercock as a partner.  Initially Sandercock was cool to the idea, and Schumacher set up his own practice. Early in 1966, Sandercock opened his door to have Schumacher join.
    It wasn't long before Schumacher made his first foray into politics as a candidate. In 1968, he was elected Member of Parliament for the Palliser Constituency and served under Robert Stanfield. He won the party nomination over three or four candidates, and then nearly doubled his closest rival in the general election.
    "I knew that I wanted to try politics at some point, I held a (provincial) PC membership continuously from 1953 to December 31, 2009, and I don't think there is anyone else in Alberta who has," said Schumacher, who now has a membership in the Wildrose Alliance Party.
    In his first venture into federal politics lasted three terms. He resigned from the PC caucus in January 1978 and sat as an independent for a year.
    He ran as an independent in the Bow River Riding but lost to Gordon Taylor.
    He stepped away from politics for about seven years, and then stepped back in, this time at the provincial level. This was at the exit of Peter Lougheed and the coming of Don Getty.
    "I had differences of opinion with Lougheed… so I said I'd just wait until someone else came along. I liked Mr. Getty, and I worked with him, so I decided to try and run for him and I did," said Schumacher.
    He won the Drumheller riding. In 1993, he became the first Speaker of the Legislative Assembly of Alberta to be elected by secret ballot. He served three terms until 1997. He spent 22 years of his career in politics.
    Post politics he continued to practice law and from 1998 to 2005, he served as member of the Surface Rights Board and the Land Compensation Board, becoming chairman of both boards in 2000.
    Both his career paths had something in common, and it is what attracted him to the field of politics and law.
    "It is a profession where you are serving people. You have to have some sort of feeling for people to be a successful lawyer, and it was always to help people," he said. "This is what I attempted to do over 50 years."
    He has seen a number of lawyers come and go in Drumheller as the community evolved. He said most of the lawyers with longevity, like Schumacher, had roots in the valley.
    "I have always liked Drumheller and tried to do by best for Drumheller," he said.