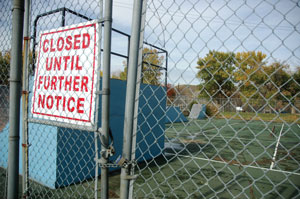 Residents have just over a week to vote to support the St. Anthony's playground project and a skate park in the Aviva Community Fund Competition.

    The competition for a grant to support the projects has entered round three and the P.L.A.Y. (Practical Learning Activities for Youth) entry is still in the running. The Mail brought readers the story of the Drumheller bid in the contest.
    The annual competition distributes the entire $1,000,000 Aviva Community Fund to projects that make it through as finalists. They will fund one finalist from each group; small projects up to $25,000, medium projects $25,000 to $100,000, and large project $100,000-$500,000. They will continue funding the remaining finalists as ranked until the fund runs out.
    The Drumheller bid is entered in the large project category and would split the winning between two projects.
    One of the projects is to build a wheelchair accessible playground/park with equipment designed for children from toddlers to teenagers at St. Anthony's new school location. It would also include an outdoor physical education classroom.
    The other half of the funding would go towards DASE (Drumheller Association of Skateboard Enthusiasts), a community group with the goal of building facilities for skateboarding, freestyle biking and inline skating. It would cater to novices and expert athletes alike, and would have space allocated for a venue for cultural activities such as concerts and festivals.
    The voting closes on November 26 at 12 p.m. Eastern Time. This vote will narrow the numbers to 90 semi finalists; 30 in each category. If the Drumheller bid remains alive, it will go through one more round of voting to narrow the numbers to 30 finalists. These 30 entries will be adjudicated and ranked, and the winners will be announced on January 25, 2011.
    To vote for the "P.L.A.Y. in Drumheller Alberta," go to www.avivacommunityfund.org and search out Drumheller. After registering, those voting can cast up to 10 votes in total, but can only vote one per day for a single idea.