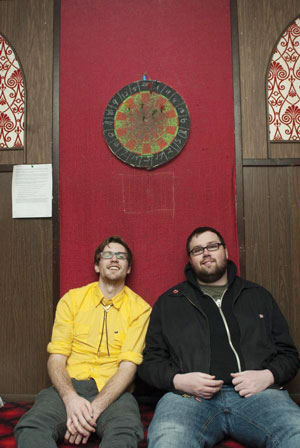 On Thursday, August 26, frontman and valley native Joe Vickers of punk folk band Audio/Rocketry will be performing solo at Wayne's Last Chance Saloon for the Drumheller celebration of the band's newest release, Eastward and Onward.
Having his band mates unable to perform alongside is fitting for the concept of the entire album, written on Vickers' solo tour to Halifax.
    "I'll be missing them, but I enjoy playing solo- you can incorporate stories and don't have to conform to band dynamics," said Vickers, the primary songwriter for the band.
    Eastward and Onward, inspired on the road, sounds like a love letter to Canada (track six, "Athabasca Roll") written with youthful folk punk music for paper. Audio/Rocketry's and Vickers' following cross-country is growing with it.
    "It's been five years of effort that I've invested, and now I'm starting to witness a growing following," said Vickers. "It's humbling and exciting."
    "It's a slow process, but we meet one or two people at various venues, and next time through they bring friends. It's a grassroots process."
    Grassroots could also describe the independent nature of the band's album releases.
    Although offered deals with indie labels, Audio/Rocketry has remained alone- the benefit?
    "We're able to control the means, and have the convenience of not worrying about money changing over," he said before mentioning they have entertained the idea of releasing future music through free downloads.
    Vickers doesn't see the band signing with anything big in the immediate future.
    "Everyone would like to have that support (financially), but music probably won't be my only career," said the University of Alberta student.
    "Maybe a mid row independent label in the next few years would be satisfactory."
    The band recently toured as far east as Winnipeg, and stopping out west in Nanaimo.
    Vickers' song writing is an additional Drumheller flavour to music in Calgary, following four acts placing in the top spots at the Stampede Youth Talent Search,  his songs were selected in the top 14 of the Calgary Folkfest's Songwriter Contest.
    For now, playing music on tour when he's not attending school or helping on the family farm is enough for Vickers, and he'll be doing just that Thursday night at the Last Chance Saloon in Wayne at 7 p.m.