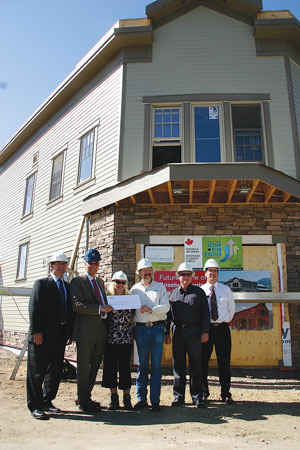 Rosebud School of the Arts is one step closer to realizing its goal of completing the Rosebud Centre, thanks to a donation from Encana.
    On Tuesday morning Darci-Jane MacAuley, and John Christofferson were on hand to pledge an additional $150,000 to the project. This brings Encana's total commitment, which dates back to 2004, to $350,000.
    "This is terrific for Rosebud and surrounding communities," says Bob Davis, executive director of Rosebud Theatre. "The latest donation from Encana brings us closer to realizing our dream of opening the Rosebud Centre early in 2011.
    Davis explained the spark for the project ignited in 2001, and the theatre began working towards its goal. During the boom, midway through decade, the project was put in a holding pattern. In 2009, thanks to contributions from the federal and provincial governments, they were able to reignite the vision.
    Kevin Sorenson was on hand for the presentation.
    "These gifts in partnerships with corporation and different levels of government and private donations combine to assure the future of Rosebud School of the Arts," he said.
    Darci-Jane MacAuley of Encana emphasized partnerships and encourages other stakeholders in the community to get involved.
    "This is not the end of our partnership. We love to partner with Rosebud Theatre and with this community. They help us with our development. We have learned a lot over the last three years on how we integrate what we are doing with natural gas with a cultural community like Rosebud, and we work well together," she said. "We hope some of our contractors working in Rosebud are going to step up to the plate and also support this theatre because we all are neighbours and we all want to stand behind something that is really good for everyone."
    The Rosebud Centre is a 10,000 square-foot dining, shopping and meeting/convention space expansion to the Mercantile Dining Room. It will include a gift shop, restaurant, tourist information centre and flexible education teaching space for the School of the Arts.
    Davis said they are getting closer to raising all the funds needed to complete the project.
    "When we announced we were proceeding with the project in the fall of 2009, we knew we had to raise another $1 million. Today's announcement of an additional $150,000 from Encana, along with other commitments this year, have combined to raise $300,000 towards our stated goal," said Davis.   
    The Rosebud Centre is slated to be open spring 2011.