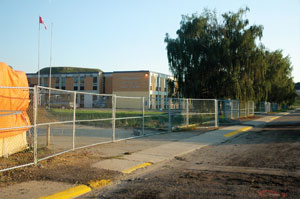 Drumheller Composite High School knows a good friend when it sees one.

    Over $70,000 in school equipment is a gift most any high school would drool for, and the Friends of DCHS Society are providing just that.
    With funds raised from a sports gala evening and casino night earlier this year, the Friends have earned enough to provide DCHS with the newest retractable black and gold bleachers and gym equipment to be used when the high school re-opens for the spring semester this year.
    The five members of the society have done more than anyone could have expected for DCHS.
    "The provincial government doesn't work the way they used to," says society member Barb Travis, adding that purchases like new bleachers and gym floor covers are not covered in most of the grants Alberta writes.
    The Friends have purchased $39,000 electronically retracting bleachers, painted in the DCHS colours, and they will arrive November.
    They are said to seat 250-300 people.
    Hoping a grant comes through September 30, a $12,000 shot clock is in plans to be installed at the school.
    And by the time they fully equip the new school's weight room, they hope to drop $50,000 on weights and other sports supplies like volleyballs, badminton supplies, and basketballs.
    "It sounds like a lot (of money), but it doesn't go very far," Travis said, also saying that the weight room equipment can be used not only by students, but community teams and also staff at DCHS.
    It's not just about sports either.
    Last year, $1,000 was given to the drama and choir programs, and another grand to the band program.
    "These societies are set up to keep up what isn't covered by the provincial government."
    Future plans for the Friends of DCHS are to possibly provide furniture for the student lounge area planned at the newly constructed high school, and the possibility of designing a structured intramural sports program for more student exercise during the day.
    Plans of hosting another casino night in 2012 are in the works.
    The Friends of DCHS are Belinda Wilson, Elin Gwinner, Debbie Pittman, Caroline Huculak, Pat Giffen and Barb Travis.
    The corporate sponsors who have provided many of the funs include EnCana, TransCanada Pipelines, Conoco Phillips, EOG Resources, Canalta, and ATCO Electric.