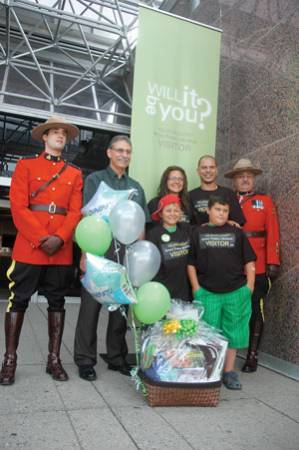 Staff and visitors packing the foyer of the Royal Tyrrell Museum erupted into cheers when the 10 millionth visitors walked through their doors Thursday afternoon, the culmination of 25 years of dedication.
    Dayton Stachniak, 8, of Edmonton, was the landmark visitor the museum had been anxiously waiting on for months.
    "I can't believe it," said his mother Lisa, "it's just unreal."
    "A month ago we were planning the trip, and I joked saying 'what if it was us?', and it ends up being Dayton."
    "Awesome," was all Dayton had to say while the cameras flashed and the crowd watched.
    Dayton, Lisa, and Jeff Stachniak along with family friend Anthony Chinni, 9, arrived in Drumheller that morning and planned to only stay for a day.
    The Tyrrell greeted the landmark guests with a limits free tour of the museum and a basket full of goodies including passes to tourist attractions throughout Drumheller and Alberta.
    This was Dayton's second visit to the Tyrrell, the first being three years ago.
    "It's really exciting," said the museum's Executive Director Andy Neuman, after the visitors were crowned. "To have 10 million visitors in 25 years is quite an achievement."
    Neuman said the museum has done a lot in the last five years by keeping the exhibits fresh so people return time and time again.
    "It's also nice to give it (the prizes) to someone from Alberta, they'll be able to appreciate all of the passes," Neuman said.