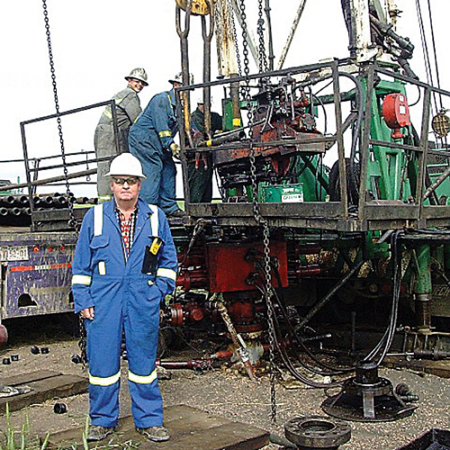 It is not rare for a young man to travel across the country for work, especially in the oil and gas industry, but for one Drumheller man, while this is how his career began, it is almost like the industry came to him, and remained for the better part of five decades.
    This summer a well in the Wayne Rosedale Field was decommissioned. While this is a regular occurrence in the industry, for Eskeland, it held more meaning.        In 1957, Ed was working for Cambridge Drilling as a derrick hand in Manitoba. Come harvest time the Drumheller area native packed up and headed home to help on the farm. When harvest was complete, he went back to Cambridge to find work.
    "They told me the rig that I was working on in Boissevain, fifty miles south of Brandon, was moving south of Drumheller. It moved 850 miles right into my backyard," laughs Ed. "It was totally unreal."
    "How many times do you move that far to your own back yard? I didn't have to board, in fact some of the guys I worked with boarded with my folks."
    He continued to work as a derrick hand, drilling in the new field, and then moved with the rig to the Alliance area, and worked through the winter.
    "When they built a plant there, they asked me to operate, and I said 'definitely,'" said Ed. "I'm still here."
    He explained the well was originally drilled to extract oil, but instead it hit gas. The plant was built in 1959 and he operated the plant for 51 years as a contractor, originally for Tennessee Gas Transmission, CDC Oil and Gas, Canterra Energy and then Husky Oil. In the well's lifetime it produced 11.66 billion cubic feet of gas.
    "They were looking for oil, but this one hit gas, but there was enough gas they couldn't abandon it, they had to run pipe and everything. It sat there until they built the plant, and that was when the well came on board," said Ed.
    Along the way, he settled down and raised a family. He had four children, and two of his sons Jason and Jim Eskeland also operate at the plant.
    He sees no reason to retire with the well.
    "I have my health, and I have to do something. I'm sure I would croak if I didn't do something. I'm more the helper than the main operator today, but I keep my hand involved," he said.
    Looking back on five decades as an operator, he is humble.
    "I guess I couldn't have done it all wrong, I must have done something right."
    Ed was on hand for the decommissioning of the well on Tuesday, August 4.