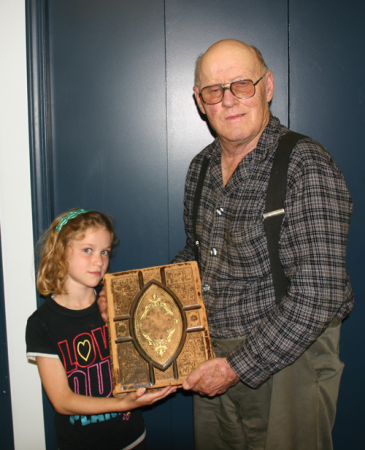 A Bible lost for generations has made its way across the country back into its family's hands.
    Wendy Cuncannon of the Morrin area was contacted earlier this year from a stranger that had just inherited a cottage on Pigeon Lake in Ontario, between Peterborough and Bobcaygeon. The woman had in her possession a Bible she found in this cottage. Within the Bible, she discovered the marriage certificate of Jeremiah Cuncannon. He was the great grandfather of Wendy's father-in-law, Jack Cuncannon. What unfolded was a chapter in the history of the family. 
    Jack's  great grandfather Jeremiah came to Canada in 1847 as one of thousands fleeing the Irish Potato Famine. He was only 14 at the time. He became a blacksmith and died in the Peterborough area. His son John Burke came west and in 1908 homesteaded in the Morrin area. For five generations the homestead has been passed from John Burke to Jack's father Stanley, Jack,  Jack's son Larry and his family, who now reside on the home quarter.
    Wendy received the Bible in January of this year after Starland County contacted her with a message that a woman from Uxbridge, Ontario wanted to contact Cuncannons.
    Cuncannon learned Jeremiah's daughter married into a family named Ashby, who owned the cottage by the lake. To get to the cabin in the 1930s, travellers would have to cross two floating bridges. The family sold the property in 1958. Wendy has a photo of the cabin from when the family owned it.
    "She (the woman who Contacted Wendy) inherited the property her parents purchased in the 1950s, and when she inherited it, our family Bible was in it," said Wendy.
    The Bible has a date that it appears to be published in 1873, and the marriage certificate is dated 1862.
    "It was found about two years ago when this lady inherited the cabin, but there was a misspelling of the name and she couldn't trace it. Somehow, she found my name," said Wendy.
    The woman mailed the Bible to the family and only asked for postage in return, and in fact sent any extra funds for postage back.
    The Bible is in remarkably good shape for having survived more than 130 years in a cabin by the lake. Wendy is now looking at how to store the Bible as to preserve its condition for years to come.