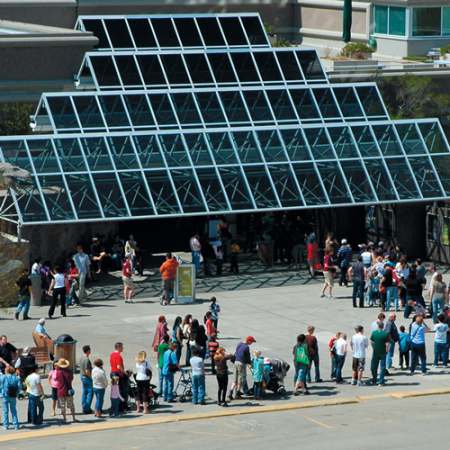 While the valley continues to be a popular visitor's destination, attractions this year have seen a slight contraction in visits compared to last year. However in the long run, overall visitation continues to be strong.
    The Royal Tyrrell Museum is celebrating its 25th anniversary this season, and while there has been continual stream of visitors coming through the doors this summer, the museum's numbers have taken a small tumble compared to last year.  

    "We are down two per cent over last year, but we are up four per cent on the five-year average," said Leanna Mohan, marketing coordinator for the Tyrrell. "I have heard everyone is down in the province; the Stampede was down, US entries into Canada are down and the European market is down, so I think it is still the economy."
     She is optimistic the summer will end with a bang with the museum's anniversary celebrations and the anticipation of their 10 millionth visitor.
    She said they are expecting that visitor in the next couple of weeks and have an extensive prize package assembled by the Tyrrell and other attractions in the valley and throughout Alberta.
    The winner will receive an extensive tour of the Tyrrell with lunch, a behind the scenes peek and a gift package. They will be able to explore the World's Largest Dinosaur, the Atlas Coal Mine, Reptile world, and will be taken on a three-person helicopter tour of the valley courtesy of Mountain View Helicopters. The winner will also receive passes to the major Canadian Badlands attractions, an annual family pass to provincial historic sites and museums, a behind the scenes tour of the Calgary Zoo and gift packages from Walking with Dinosaurs.
    The Atlas Coal Mine has also experienced a small slowdown this year after posting record numbers in the previous seasons.
    "As of July we were back a little, which surprised us because we felt we were on a rising tide," said Linda Digby, executive director of the Atlas Coal Mine National Historic Site. "My impression is this August is busier than last August, but I don't have the stats yet to prove that. It feels like there is more weight in August this year."
    She explains they have experienced a different pattern and it may be due to the economy. It appears that while the season started slow, it is gaining momentum.
    Despite the slowdown, Digby says they are "over the roof" in terms of their five-year average.
    "Last year was really a stellar year, just extraordinary, I think we were up 33 per cent over the previous year," she said. "It seems like a really comfortable level, there are lots of full tours and a full parking lot without it being overflow; lots of tour participation without the gift shop feeling like a gong show, it is more of a manageable number for us."
    "That's actually the good side…we're adjusting how we do things here so we can handle a greater volume than we did two years ago. So even when we have a day that is very busy, the staff don't feel like it's especially so."
    Visitation to the World's Largest Dinosaur and Visitor  Information Centre is also experiencing a slowdown, but again, this is compared to last year's  almost record breaking visitation.
    "Our year to date visitation is down 10 per cent from 2009 in the same time period," said Heather Bitz, general manager of the Drumheller and District Chamber of Commerce. "With that said, 2009 for us was a very good year, it was our second best year since we opened for visitation."
    "To beat those numbers this year I knew it was going to be a big challenge. To know that we're down this year, I am not terribly disappointed."
    She said there could be a number of factors that contributed. While there is a slow down of international visitors she says the World's Largest Dinosaur and Visitor Information Centre's visitors are by and large from Alberta. The recent utility work near the World's Largest Dinosaur may have contributed to part of the slowdown.
    "Hopefully it is not an indication of a downward trend," she said.