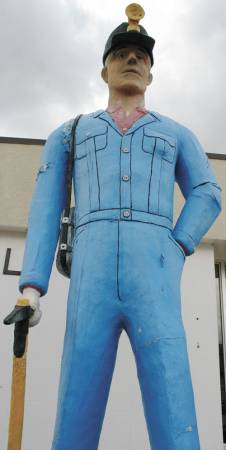 Drumheller has a big story to tell, and the Coal Mining Centennial committee, formed to plan a centennial celebration of the birth of the first coal mine next year, has lots of ideas to tell it.
    "Plenty of great ideas came out from the public forums," said Atlas Coal Mine Historical Society executive director Linda Digby, adding a lot of their realization will depend on the level of interest in the community for people to see them through.
    One of the biggest tasks ahead is to compile a list of the miners to be included on a memorial dedicated to those who lost their lives working in the mines.
    A list was compiled some years ago, however Digby explained to The Weekender they want to try to substantiate those names to ensure nobody gets left out.
    Some volunteers have offered to research the Glenbow Archives in Calgary and others the Provincial Archives in Edmonton.
    There is also another source right here in Drumheller, where volunteers from the community could lend a hand in this detective work by going through The Drumheller Mail archives at the public library
    "Every time I go to the library and scan old editions of The Drumheller Mail, I am fascinated. I  learn stuff about the city that I have never known before, it is a lot of fun," said Digby, adding that if volunteers could take one year each, then the task becomes a more manageable one.
    "We are going to learn some amazing stories, some heroic ones, some tragic ones. It is something that as a society, we feel really moved by. Our only frustration is we don't have the capacity to do it all ourselves, we would love to just invest all the man hours ourselves in doing this because we love to learn about all this, but we just don't have man power to do it, so we will definitely need help from the community."
    Volunteers who would like to help researching The Drumheller Mail archives should contact Linda Digby at 403-822-2220 to register their interest.