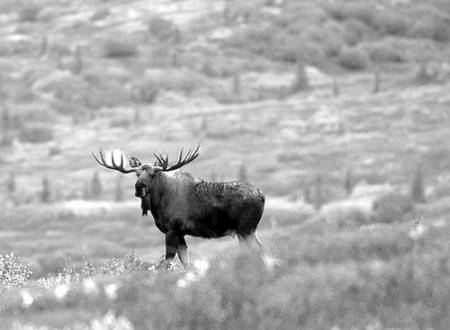 A baby moose proved a little too wily for Fish and Wildlife officers and volunteers as they tried to wrangle a set of twins, orphaned in a car collision.
    On Wednesday evening, June 16, in a collision on Highway 10 near Rosedale, a cow moose was killed, leaving two very young moose to fend for themselves.
    Fish and Wildlife officer Bryce Jensen said when they saw the mother moose the next day they could see she was actively lactating to feed her young at the time of her demise. They also learned of a reported sighting of the youngsters as well as tracks.
    Knowing the young animals would not survive if left on their own, and knowing they had fresh tracks, Fish and Wildlife officers and volunteers gathered to try to capture the animals. One was on a piece of land owned by Clayton Schrock near the accident site.
    Late Friday afternoon the group assembled to attempt a rescue. They targeted one. While six of the volunteers held snow fence, the other eight went out pushing the bush to flush out the moose. They had the youngster in their net, but it managed to wriggle its way out.
    Jensen says they probably will not attempt to rescue the animals again unless there is a very good sighting. He explains that at their age there is a good chance they may not have survived the week.
    He did offer one glimpse of hope. While out spotting for the moose, they came across another cow in the bush. While it is inconclusive, he says it may be possible this second adult moose could have "adopted" one or both calves. He has seen this in deer populations where other female animals have taken over mothering orphans, and it may be possible this is the case with moose as well.