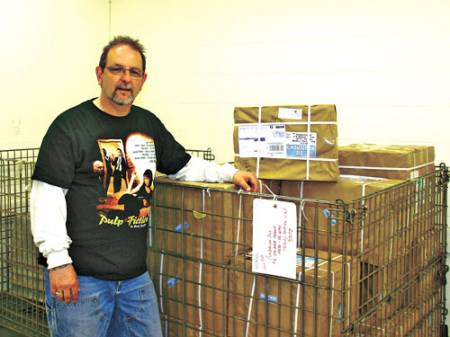 The Morgan Jayne Project continues its service as it just shipped 306 cans of infant formula to the Roatan at a time when it is needed most.
    The original goal of the program, when initiated by Fred Makowecki, was to supply infant formula to children at risk of contracting HIV and AIDS from their mothers through breast milk. It has been successful in saving hundreds of babies. While the project has expanded to help construct the Morgan Jayne Infant Care Centre and provide Christmas wishes to hundreds of children, its bread and butter remains providing formula.
 Volunteers packed up the formula with help of the local post office, and on Friday June 4, they were shipped out. The 306 cans have a value of about $8,000. Local donors came up with funds to ship the cans.
    Makowecki said the need in the Roatan has been growing. Because of the global recession the tourism industry on the island, which employs many balancing on the edge of poverty, has come to a stand still. Political upheaval has also taken a toll. Recently the Morgan Jayne Infant Care Centre saw a child die from starvation mere moments after birth.
    Makowecki is grateful for the support, including the post office. He explains the project was able to cut down its freight charges by a third simply by the help it received from the post office to package the shipment efficiently.
    The shipment is destined for Florida, where it will be held before it is sent to Roatan.