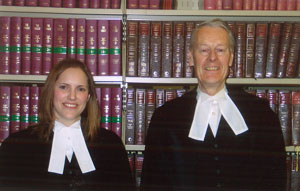 A DCHS graduate has realized her goal to practice law and has been admitted to the Alberta Bar Association.
    Heather Andre, daughter of Maureen and Tony Andre of Drumheller, was admitted to the Alberta Bar by the Honourable Mr. Justice J.E.L. Côté at the Edmonton Court House on December 11 of this year.
    Heather attended St. Anthony's School and graduated from DCHS in 2001.
    She earned many academic awards and graduated from Queen's University in Kingston Ontario in 2004. In 2008, she graduated from the Faculty of Law at the University of Alberta.
    She article under Justice Cote and then with James Heelan QC at Bennett Jones LLP in Edmonton where she is currently employed working as a generalist.
    Heather wanted or thank all of her teachers in both St. Anthony's and DCHS for the excellent support and guidance during her time in school.