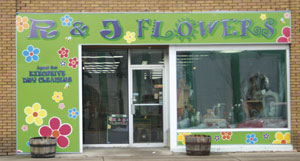 Drumheller R.C.M.P are seeking your assistance regarding a break and entering   to R & J Flowers located at 40  -  3rd Avenue East, Drumheller on January, 4 2010.
    Between 7:35 p.m. and 7:45 p.m., suspects broke the rear window of the back door of the shop, using a roofing tool. The back door was then unlocked and the suspects were able to enter the building, stealing a cash box containing over $400 and several cheques.
    Two males, wearing dark clothing were seen leaving the back of the store.
    If you have any information regarding this or any other crime, please contact the Drumheller R.C.M.P at 403-823-7590 or Crime Stoppers at 1-800-222-8477.