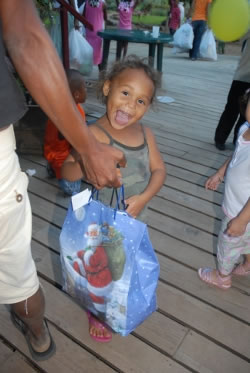 Miracles are what the Morgan Jayne Project is all about, and they are hoping to create miracles in the lives of children this Christmas.
    The project is hoping to fill a long list of Christmas wishes for children in Roatan who are affected by the world Aids epidemic. The Christmas appeal is in full swing.
    This year, Fred Makowecki says because of the events of the previous months including the tragic death of Dallas Martens and the volatile political situation in Honduras, the need is even greater.
    He says they usually begin the Christmas campaign in September.
    "That allows us from the end of September until the end of October to gather and ship," said Makowecki. "With the murder of Dallas it threw everything out of  kilter, but we still have to get it there."
    He says because of the political climate the need is dire. Due to travel restrictions, the economy of the island has stalled.
    "The people who were desperate before, living hand to mouth are in even more dangerous situations," said Makowecki. "It means what we are doing is a little window of normalcy in a life of despair."
    Allowing Santa to come to the poor children of Roatan and the families served by Familias Saludables has become a tradition, and last year Drumheller residents helped give gifts to some 100 children that had never seen Christmas before.
    This year there is a list of 85 children they hope to provide presents to, and situations of the families are desperate, such as the appeal for Jorge 4, Daniela  5, and  Faviola 11.
    "Faviola has had another tough year. Her parents could not afford to pay for the bus to send her to school so she has missed so much that she will have to repeat the grade. Her dad lost his job when he was attacked with a machete and cannot walk properly any more. She is shy and timid and her self-esteem's pretty low. I think she would appreciate something to remind her that we think she's great. Let's avoid school supplies and send her some jewellery or girly stuff. Danielle, in her usual tough way, has decided she should have something that has "Dora the Explorer" on it and Jorge likes cars, animals and soccer," the list states.
    "For every name you see on the list there is going to be three kids watching from outside when the presents are being handed out" said Makowecki. "Last year we sent 650 kilos of presents and that just barely covered all the kids that ended up there."
    "It is more than just giving Christmas gifts to kids on the Island. It is parents who every day have to decide what they are giving up or how they are going to get one meal a day on the table for their family."
    Makowecki stresses  time is of the essence. The packages must be shipped within two to three weeks to reach the island in time for Christmas.
    To see the list of items requested go to www.themorganjayneproject.com.
    The list is simply suggestions, and Valerie Nelson who administers the program says feel free to send extra gifts for kids missed or who will join the program before Christmas; foodstuffs, towels, perfume or lotions for the moms; outdated electronic games or cartridges; office supplies, in particular HP printer cartridges 22 and 27 for the Familias Saludables office; vitamins, especially infant liquid vitamins and children's vitamins;      Christmas decorations, even if used, and baby formula of any powdered kind, but not liquid.