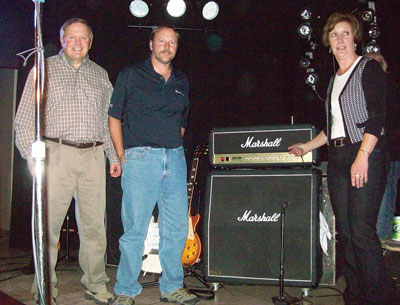 If there was a perfect storm, as the saying goes, it was last Saturday evening at the Delia Community Centre.
    The Delia Rocks concert and dance combined the perfect format, a 60's and 70's dance band with the perfect crowd, a mix of  some 250, 40 to 60-plus twisters and jivers, with a perfect venue at the Delia Hall.
The brainchild of Bob Davidson, himself a 60's lovechild, the music of the Chevelles and their music instantly  brought the crowd to the dance floor, and it didn't empty the rest of the night.
    Buddy Holly's Rave on, Dr. Hook's Cover of the Rolling Stone and Brown Sugar from the Stones, and dozens of other songs were ably recreated in three sets by the Lethbridge foursome.
    The Hanna Extended Care Facility will be the benefactors of the proceeds from the event which brought together a mixed crowd from Drumheller, Hanna, Morrin, Byemoor and Rumsey with parts in between.
    Proceeds topped $6,500, with $1,000 directed towards the Delia High School's European  trip in 2011, and the balance will be donated to the Hanna Extended Care Unit in the memory of Bert Marshall.