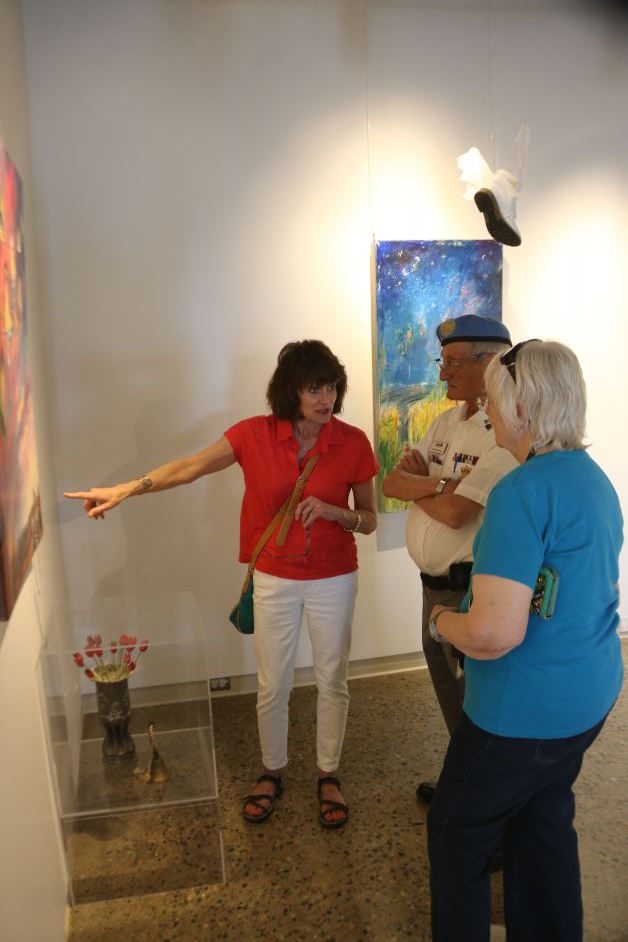 A new exhibition at the Western GM Gallery at the Badlands Community Facility wants to open a dialogue between historical and contemporary concepts of freedom.
The exhibition featuring works by artists from the Burns Visual Arts Society (BVAS), Canada's oldest artists' studio cooperative, opened on Friday, May 5. Liz Sullivan, one of the artists featured explains members of the BVAS were invited by a Dutch artists' cooperative called Platform Edese Kunstennars to collaborate and coordinate simultaneous art exhibitions that commemorate 75 years of the liberation of the Netherlands at the end of World War II. This was about three or four years ago.
"Seven of us were really excited to be part of this project, so seven of us created work for this," said Sullivan. "My parents are Dutch and immigrated in the 1950s. They were children in World War II living close to the German border. My mom was 10, my dad was 15."
Her contribution was about a half dozen works telling her parents' stories.
She noted that May 5 is Liberation Day, and in the Netherlands, they are still celebrating liberation and expressing their appreciation of the Canadian war efforts.
Beyond marking the liberation and the role Canada played, the works of the seven BVAS artists, embody a broader concept of freedom.
According to an artists' statement, "Today, defining freedom is as difficult as achieving it, keeping it relevant and remembering it all comes with responsibility.
The main idea behind this exhibition is to create a dialogue between historical and contemporary concepts of freedom. We wish to challenge and celebrate the concept of freedom from both the personal and societal levels."
Viewers are invited to contribute their thoughts on what freedom means and leave their comments on cards provided at the gallery.
They have created a video that has been shared with the cooperative in the Netherlands and as shown in their exhibit.
The art was shown at the BVAS gallery in Calgary, however, just a week later, the pandemic hit. A year and a half later, it was shown at a gallery in Calgary with the Alberta Association of Artists.
"This is our next stop, and we are waiting to hear of other places to be shown around Alberta," said Sullivan.
The gallery is open and on display until May 30.