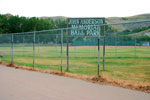 A draft of the results of a facility census survey appears to refute the results of a plebiscite on the possible future uses of John Anderson Park.
The Mail has obtained a draft copy of the census report. Canvassers undertaking the 2008 Drumheller census gathered the information. From the households surveyed, 56 per cent support the development of community recreation facilities at John Anderson Park, while 29 per cent are against the idea, 15 per cent of the respondents are unsure.
This is a different result than the findings of a plebiscite undertaken during the 2007 general municipal election. On October 15 of last year, voters were asked whether they supported development on what is known as John Anderson Park. Residents voted on the question following a successful petition put to Council. The result was narrowly defeated with 1,247 voting against development on the said piece of land and 1,148 voting in favour, with a 37 per cent voter turnout.
The survey included in the census was taken from 2,179 of the approximately 3,200 Drumheller households. According to the report was there were 1,000 households that did not respond to the survey. This was because in some cases neighbours verified census information, they did not complete the survey. Others chose not to answer the survey questions. The statistical reliability, based on a sample size of 2,200 would be plus or minus 1.17, 19 times out of 20.
The survey asked residents' opinion of a choice of seven options for development, including Aquaplex upgrades, a community centre, curling rink replacement, gymnasium/field house, indoor child playground, outdoor parks or a second community indoor ice arena.
Overall, the survey showed across the board support for either upgrading or developing new recreation facilities in Drumheller. In all 78 per cent voted favour, while only 10 per cent responded no. As well, 12 per cent were not sure. When looking at priorities for recreation facilities, 48 per cent responded that a gymnasium/ field house should be developed immediately followed by an indoor child's playground and a second community indoor ice arena with 44 per cent support.
Of all the potential choices of facilities to be developed, no more than 17 per cent of households indicated a facility should not be developed.
When asked of their priority, 24 per cent reasoned the community centre was their first priority, followed by Aquaplex upgrades at 18 per cent, and a second sheet of ice at 17 per cent.
Aside from recreation facilities, the survey asked if residents believed Drumheller Town Hall should be moved to the downtown core and redeveloped as a fully accessible building. 55 per cent said yes, 31 per cent said no and 14 per cent were not sure.