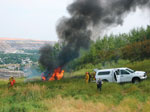 Smoke rose high above the Drumheller skyline early Tuesday afternoon, August 19, as a jeep driving near the top of the ski hill burst into flames.
No one was injured and Drumheller Fire Department managed to douse the flames, not before the late model Jeep was completely destroyed.
Gerry Matte, owner of Magtech Computers, was approaching the crest of the ski hill performing his regular check of his wireless towers. He said flames began to shoot from the hood area of the vehicle. Matte managed to exit the vehicle unscathed. By the time emergency crews arrived, the vehicle was engulfed in flames.
A third party phoned 911 alerting the Drumheller Fire Department of the blaze.
Because of the terrain, the firefighters were not able to drive their large pumper vehicles up the ski hill. As they searched for an alternate route to the top of the hill, the ski hill staff contributed to the emergency effort by attempting to turn on hydrants that run up the hill for their snow making equipment. The department managed to find access for their trucks from the top, and extinguished the fire.