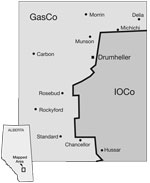 By all indications, it appears the split of the EnCana Corporation into two separate entities will proceed smoothly in the Drumheller area.
In May of this year, EnCana announced it was planning to split into two separate companies; one focused on their gas operations, with a working name of GasCo, while the other will focus on the integrated oil business, with the working name IOCo (Integrated Oil Company).
The company has laid out a timetable that will see the restructuring completed by early 2009. According to Luigi Vescarelli, community relations advisor in Drumheller, the split may be good news for Drumheller.
"By many measures the split has already been a success," said Vescarelli. "In the Drumheller area for approximately the past two years, EnCana has had two divisions, basically operating independently."
In the Drumheller area, the split will essentially be geographic. The one division, known as the Canadian Foothills division, operating in the Drumheller, Hanna, Coronation and Vulcan area will become part of the new gas company, which is expected to retain the EnCana name, while the Canadian Plains division will become part IOCo. It involves communities east of Drumheller.
"Both divisions have been achieving strong performance results," said Vescarelli.
He says the whole company, including those employed in Drumheller, have received letters informing them about the split, and where they will be fitting into the new structure. The EnCana office in Drumheller employs about 100.
There are still some details that need to be worked out. Vescarelli says both companies will occupy office space in Drumheller, however it is not known whether it will continue to be under one roof. He adds all commitments made by EnCana's community investment program will be honoured.
According to a release provided to The Drumheller Mail, the split is expected to make it easier for the investment community to compare the companies to like corporations and more accurately assess their value. Vescarelli explains that because EnCana was so tightly integrated, when, for example, oil process made a dramatic rise, this didn't wholly reflect on EnCana as it wasn't a pure oil company.
Financial analysts who follow the energy sector have indicated the share price of both companies are expected to rise. Shareholders, under the restructuring plan will receive one share each of the new companies.
"Although all major changes can be challenging, to me the split will only increase opportunity for employees, contractors and the community at large," said Vescarelli.