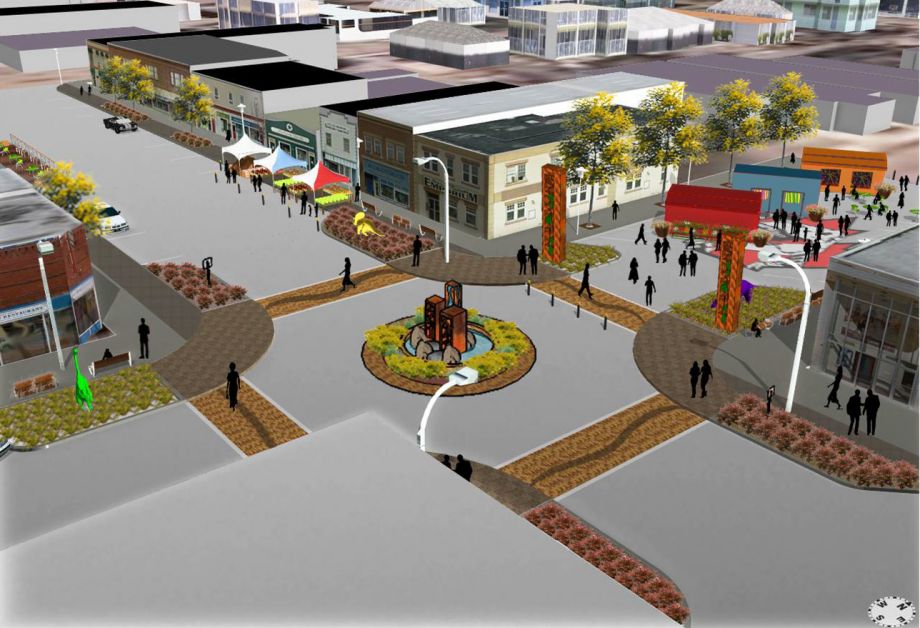 The town is going ahead with plans to create a downtown plaza and walking space on Centre Street starting Thursday.
Centre Street from 3rd Avenue to the alley behind the Napier Theatre will be closed from July 13 to September 1 so seating areas and useable space can be installed for a variety of activities such as farmer's markets, festivals, and live entertainment. A platform for seating will be also be installed on 3rd Avenue.
Benches, lights, and flower planters will be installed by town employees on Wednesday, July 11.
Costs are estimated at $7-8,000 for planters and some equipment, which will be used again in the future.
Planning is underway to arrange for entertainment every Thursday, Friday, and Saturday for the remaining summer months and most of downtown's businesses have agreed to remain open until at least 8 p.m. until September.
Mayor Heather Colberg says the plaza will be a test project to gauge how popular and successful the plaza will be and to see if it will be implemented again next year.
"The goal is to create a healthier community, to create a place where residents and our visitors can go, have activities, and support local merchants," she says.
"I've been fortunate to travel the world a lot and wherever I go I always look for this kind of place where you can go and hang out," says Colberg.
Michael Todor of 3rd Avenue Arts says he is absolutely in favour of the move.
"It will bring people into the downtown and more people means more money spent. It's about creating an atmosphere," he said.
The Napier Theatre's Jeff Larson says he is losing parking spots outside of his building but is in support of the plaza.
"Anything's worth trying to see if it works. My only concern is I am losing some parking, but if it works well then I'm for it," he said.
Residents have voiced concerns about the town focusing too much resources on supporting business downtown, but Colberg says the downtown is an important area for tourism and also is the home to a significant amount of businesses.
"You have resistance on everything but it's like anything else -- I tell people to give us a chance. You gotta start somewhere to create a vibe and then the goal is to carry that vibe throughout the community."
"If people have ideas on how we can carry it through the community then share them. I'm an open book," she says.
There will be performances from July 12 to July 14 with a local ukulele group performing Thursday, the Wayfaring Fiddlers on Friday, and the house band from Newcastle Bar playing Saturday.
On Thursday there will be an antique car collection on display, Friday will feature board games, and on Saturday there will be a merchant sidewalk sale.