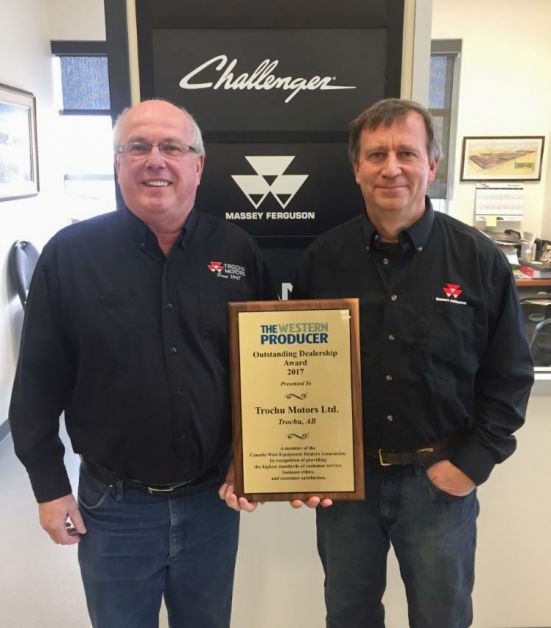 Trochu Motors has been honoured with the 2017 Western Producer's Outstanding Dealership Award.
The award was presented at the 2017 Western Equipment Dealers Association (WEDA) meeting in Phoenix, Arizona.
This specific award recognizes a dealership for meeting the highest standards of customer service, business ethics, and customer satisfaction in Western Canada.
This is the second time Trochu Motors has received this award, having also been honoured in 2014. The first time they won it was after their large transition from Main Street to their current location at 102 Eckenfelder Street in Trochu.
Customer nominations were the deciding factor for who won.
"This award, coming to us in the year of our 70th Anniversary, reaffirms Trochu Motors' 'reason for being': total customer care," said Jack Stankievech, dealer principal at Trochu Motors.
Trochu Motors is a family-owned AGCO, Versatile, Kubota and shortline dealership who has been serving the farming community since 1947.
"We are honoured to receive this award for the second time," said Rich Meding, a partner in the business. "We owe a big thanks to all of our staff for their commitment to look after our customers."
For more information on this dealership, visit trochumotors.com.