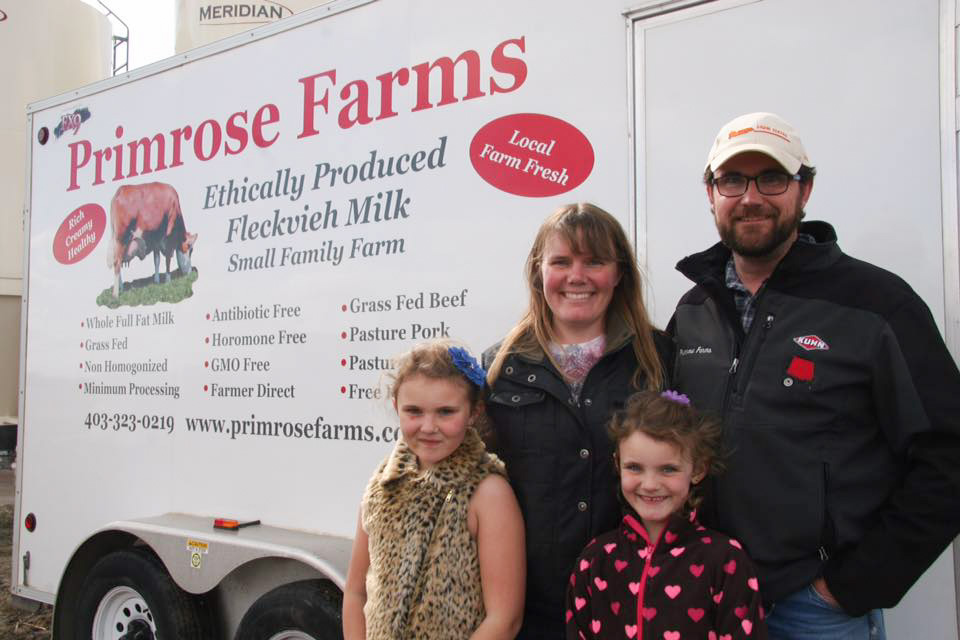 Cornel and Cremona Primrose of Big Valley are officially opening their doors to experience what it is like on the farm come August 19 and 20.

After 14 years of experience and family ties, the couple and their two little girls aged 7 and 9 are more than happy to share their life with the public.

"We have farming ancestry on all side of our families; born with farming in our blood,"

Cremona has an Animal Health Technology background and noticed how industry companies were pushing dairy farmers to use more pharmaceuticals for "band-aid" approaches on their cows.

"We disagreed with the industry and thought there must be a breed who is healthier. A year later, our farm was using
Fleckvieh genetics directly sourced from Germany in lower Bavaria," said Cremona in an email interview.

The Fleckvieh breed offers dual purpose of both high quality beef and milk as well as the ability to fight disease without many antibiotics and pharmaceuticals.

"We have always farmed with ethics in mind, especially with world wide superbugs on the rise," said Primrose.

By 2016, the family farm obtained a processor's license and began selling whole milk, plain yogurt, and plain kefir. Their products have seen shelves in many stores across the province now.

"It's a global calling to be able to provide food for your fellow human beings.

Their traditional approach to farming includes the animal's experience on the farm and how they are treated.

The milking cattle specifically are fed high forage diets which essentially ensures moderate milk production of a healthy, long lasting cow.

A unique part of the farm is that all animals are named rather than identified by numbers.

As for the open farm days itself, it is set to be full of family-friendly fun activities. Many farmers, ranchers, and ag-tourism operators invite visitors to experience informative tours and culinary events that help highlight the importance of agriculture in the province.

This year, there are more than 100 Alberta Open Farm Days host sites and over 20 culinary events across Alberta including Primrose Farms, south of Big Valley.