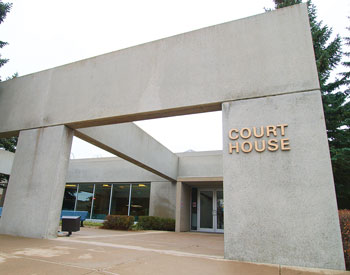 A Drumheller man has been sentenced to a year and a half in jail after pleading guilty to a long list of offenses including misleading police, uttering counterfeit currency and being in possession of stolen vehicles.
Jeffrey Morse appeared in provincial court in Drumheller to make his pleas on Friday, June 23, 2017.
The court heard how on December 6, 2014, Morse, a disqualified driver, was operating a vehicle when he passed through a check stop. He provided the officer with another person's name. Police determined the person whose name he had used had a warrant for his arrest. Morse then admitted it was a false name. He pleaded guilty to obstructing a peace officer investigation and driving while disqualified.
He also pleaded guilty to a breach of his release on September 20, 2016, by being in a motor vehicle without the registered owner. He was involved in a single vehicle rollover driving his mother's vehicle.
He was also charged on November 19, of passing counterfeit $50 American bills at the Drumheller McDonald's and the Extra Food Gas bar.
On January 9, he was in Hanna at a truck stop when a passerby reported he and others in a recently stolen truck with a stolen snowmobile. When police arrived, Morse was searched and police discovered a small amount of marijuana.
While he was in custody police learned there might be more stolen vehicles at his father's home. They obtained a search warrant and on January 24, 2016, in a garage police discovered a stolen Chev Avalanche and a stolen Honda motorcycle.
Morse has an extensive criminal record and has spent 118 days in pretrial custody. The crown and defense agreed on an 18-month sentence, giving Morse credit 1:1.5 credit for his pretrial custody, leaving 12 months to be served.