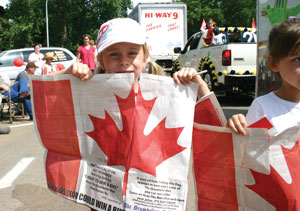 Canadians have a lot to be proud about, and Drumheller residents can be proud of the always successful Canada Day Parade happening Friday morning.

    The Mining Centennial is the theme of this year's event, and the Atlas Coal Mine will be leading the march with their float, followed by mining families and The Drumheller Mail, which is also celebrating 100 years.
    Minister of Alberta Agriculture Jack Hayden will be driving in the parade.
    About 40 antique cars from the 1930's and 1940's will be among those in the parade as well. Vitamin Water and Coke Zero will have floats in the parade as well.
    Parade organizer Roxanne Clark says she's expecting one of the biggest parades ever this year.
    "We definitely have a big group registered and I'm finding there's a lot of variety this year," Clark said.
    "I'm excited to see it all together, I've been a fan all these years and I'm excited to see it all come together."
    Judging for the parade will begin promptly at 9 a.m.  If floats are not lined up by 9, they will not be judged.  It is preferable for all entrants to arrive by 8:30 a.m. so organizers have time to line them up accordingly.  The following are the categories and streets to line up at: 16th Street E. – Antique, 15th Street E. – Equestrian, 14th Street E. – Community, 13th Street E. – Sports, 11th & 12th Street E. – Commercial.
    If floats are registered with large machinery or equipment, they are asked to be at the end of the parade, at 11th Street.
    The parade will begin promptly at 10 a.m.  and should last approximately two hours.
    The main stage and the site of the afternoon entertainment will be in the shadow of the World's Largest Dinosaur. Because of the construction of the Badlands Community Facility, last year the festivities were moved west to the splash park area.
    There are six adjudicators ready to judge this year's floats: Ron Zuke, Karen Zuke, Mark Notland, Sharel Shoff, Rick Walters, and Elaine Piwin.
    Reminder about the rules: do not throw candy from your vehicle; please hand out—if participants insist on breaking the rules and throwing candy, they are asked to please make sure it is far enough from their vehicle that kids are not running out into the street to try to collect it. Organizers are asking there to be no water guns.