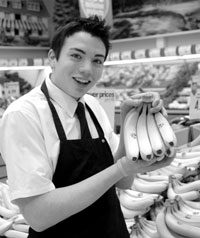 Age:
18
Employer:
Extra Foods
Job title:
Produce clerk
Hobbies and interests?
Playing soccer, collecting comic books, and skateboarding.
Dream or goal?
To eventually own my own business. I'm thinking about a resort or hotel one day, maybe in B.C. on the lake.
Favourite food?
Weinerschnitzel, it's fried, breaded, pork loin. An Austrian dish.
Favourite music right now?
Queen, Bohemian Rhapsody.
If you could have dinner with anyone, dead or alive, who?
Bruce Lee, he seems like a really nice guy, with a wealth of knowledge. And a really good fighter.
Favourite movie?
Star Wars, the prequels. Episode III was the best.
Favourite actor?
Tom Hanks.
If you could travel anywhere, where?
Outer space, somewhere with aliens.
Favourite NHL team?
The Vancouver Canucks. I have $100 riding on them, and they are going all the way.
If we are buying, you're having?
I'll have the most filling thing I can get.
If you were on a desert island and could only bring one thing, what would you bring?
A knife so I could hunt all the local animals.
Favourite quote?
Fortune favours the bold.
Words to live by?
Never back down.