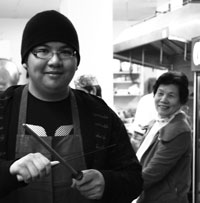 Age:
18
Employer:
Fred and Barney's Restaurant
Title:
Owner/Manager
Duties:
Boss people around and deal with slackers.  and food preparation.
Hobbies and interests?
Hanging out with friends, driving, golfing, basketball, Halo 3 and bungee jumping.
What is your life goal?
Win the 649, I have been trying but have not done it yet...
Favourite food?
Edo, number 5.
Favourite music?
Punk rock, alternative rock, and punjabi music.
If we're buying dinner, what are you having?
The most expensive item on the menu.
It's Sunday morning, what are you eating?
Some eggs, french toast, and pancakes.
Favourite possession?
My Apple iPhone from Apple.
If you were on a desert island and could bring one thing, what?
My iPhone.
If you could have dinner with anyone, dead or alive, who?
Megan Fox.
Favourite movie?
Pineapple Express.
Dream car?
Nissan Skyline GTR, 2001 or 2009.
Favourite actor?
Seth Rogen.
Favourite quote?
"Can I have yo' numba?"
Favourite TV shows?
Family Guy, the Simpsons, and Two and a Half Men.
Favourite basketball team?
Phoenix Suns, Shaquille for the win.
If you could travel anywhere, where?
Hong Kong or Australia.
Last words?
Angels and Airwaves (band) sucks, and Halo 3 for the win.