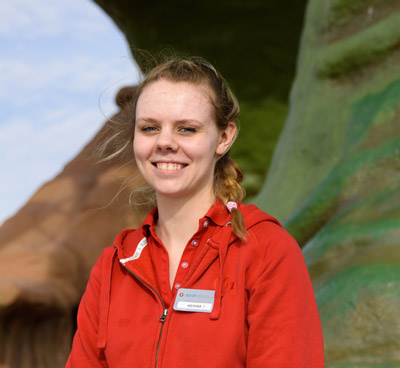 Keshia Jensen
Who is your employer? Debbie Schinnour with the World's Largest Dinosaur.
What do you like most about your job? I like meeting all the new people and getting to help make their day a bit more adventurous.
What is your dream job? I took business in college so I'd like to start up my own business eventually. Maybe a bar or something.
How long have you been in the valley? My whole life. 21 years.
What do you like most about living here? I like the small town effect but it's still big enough that there's things to do. There's always different people to meet.
What are some of your top travel destinations? I'd like to travel to Cuba or somewhere in Europe. Barcelona, I've always wanted to go since I watched the Cheetah Girls.
If you could travel through time, when and where would you like to go? Honestly, I would love to go back to the dinosaur age just to see what they actually looked like. We all know what the bones look like and whatever but no one knows exactly what kind of skin texture they had for sure.
If you were stranded on a desert island, what three things would you bring with you? My fiancé, a boat, and some Budlight.
What are some activities you do around the community? I like to go hiking. I like to take my little guy to gymnastics. I like to go swimming and go to the movies.
Choose one thing to eat for the rest of your life. Watermelon. I love watermelon. You stay hydrated and full all at the same time.
What would be your theme song if you had one? Beyoncé - Move your body.
Know someone who we should get to know better?
Please give us a call at 403-823-2580 or email news@ drumhellermail.com