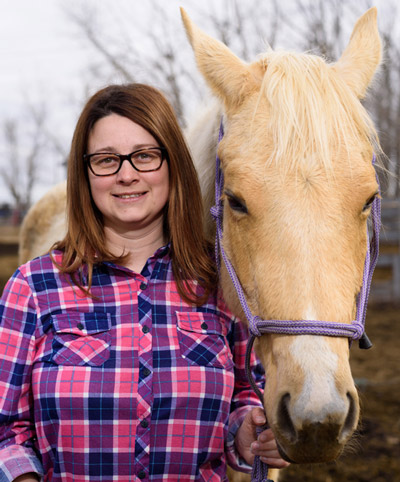 STEPHANIE YULE
Who is your employer? I work for myself at Yule Ranches.
What do you like most about your job? It's really flexible, I guess I have lots of opportunities to come and go as I please but I never get to leave my job either if that makes sense.
Dream job? I'm doing my dream job for sure.
How long have you lived in Standard area? 11 years.
Where are you originally from? I'm originally from Byemoor which is southeast of Stettler.
What brought you out here? First off a job in Strathmore and then I met my husband.
What do you like most about living where you do? It's a really good community to live in, everybody's helpful and does whatever. We all work together. We have a really close group of friends so that helps.
What are some of your top travel destinations? I'd like to travel in Texas a little bit more.
If you could travel through time, when and where would you like to go to? I would probably like to go back to the 1930's to see how things were back then. Just to view the devastation and how everybody had to work because essentially without them, we wouldn't be doing what we're doing today, especially right here.
If you were stranded on a desert island, what three things would you bring? A book, my kids and husband, and a pet of some sort like a horse or a dog.
What are some activities you do around the community? I am on the ag society and the rodeo committee. I am an assistant 4-H leader and essentially help whenever something is needed to be done. If anybody asks, I try to help out.
Choose one thing to eat for the rest of your life. Steak.
What would be your theme song if you had one? Road less Travelled by Laura Alaina.
Know someone who we should get to know better? Please give us a call at 403-823-2580 or email news@drumhellermail.com