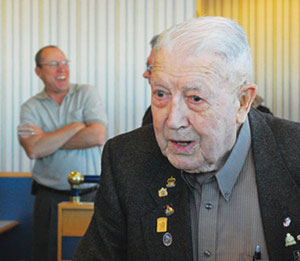 Last Wednesday, a man who had a first hand view of the seedier side of Drumheller life in the roaring heyday of mining, passed away.
Ernie Henderson was an RCMP officer in Drumheller in the late 1930s and was stationed in the valley when World War II broke out. He was also the oldest member to serve in the Royal Canadian Mounted Police. He was 106 years old.
The Drumheller Mail had the pleasure of speaking with Henderson in February of 2010, not long after his 105th birthday. He remembered details of his time in Drumheller some 70 years ago with surprising clarity.
Drumheller was his second assignment after serving in the interior of B.C. The community was on the tail end of the Depression, and he remembers that the community was feeling the pinch as mines were closed.
"There were 700 families on welfare at the time in the valley, right on both sides of Drumheller," he said. "At that time there was no paved roads there either, and that heavy mud was really bad."
Its reputation as a rough mining town was well intact, including Henderson's dealings with the houses of ill repute. The legendary madams Mary Roper and Fanny Ramsley were still doing a roaring business, and had their share of run-ins with Henderson.
They were both on the outside of the city limits," said Henderson. "We never could get anything on Mary, but we were tough on Fanny."
Even from the madams, Henderson was a man of honour.
"When I was transferred from there, the day before I left, there was a taxi that drove into the yard. Our office was in the old courthouse building at that time," he recalls. "It was Fanny Ramsley, and she said, 'Is Mr. Henderson here?' They gave a call and when I came out she said, 'I hear you are leaving.'
"I said 'You'd be happy about that,' and she said, 'No, I am really not. You were tough, but you were always fair.' You can't get a better recommendation for a policeman than that."
From Drumheller, Henderson was stationed in Hanna and a number of points in Alberta until he retired in Cardston in 1948.
He went back into ranching, and worked for the Canadian Shorthorn Association until the late 1950s. He then bought a McLeod's Hardware store franchise in Shellbrook, Saskatchewan. He retired to High River in 1971.
He gave up his driver's licence when he was 102. While his sight was still strong, his hearing was fading. In his later years he still kept a captive audience at his regular coffee klatch at the High River Dairy Queen with other retired police officers.
Funeral services for Henderson will be held on Friday, November 18 at the Snodgrass Funeral Home in High River. Interment will be at Depot at a later date.