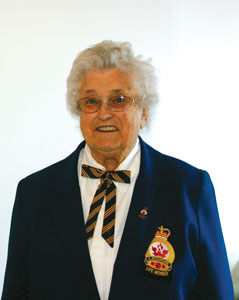 While war can be a cruel unrelenting force where battles and lives are lost, it is also a time where bonds are forged and even love can spring forth.
For one Drumheller woman, a relationship started during the raids over the skies of England brought her from her home to the Drumheller valley.
Kathleen Lowen, as a 22-year-old living not far from London, did her part in the war effort. She worked in a factory building the frames of Tiger Moth trainer planes.
While she worked, her brothers served in North Africa. Her twin brother was killed in 1943. The war was a part of everyday life, and the reminders were dramatic.
"People don't know what you did during the war," said Kathleen. "Those Doodlebugs (V1 flying bombs) used to come over… if you heard them, you were okay, but if they stopped, you didn't know where they were going to land.
"One went over where my mother lived, and landed on a farm. Everything just disappeared."
She could see the fire of London from where she lived while she served.
There were some lighter times. She remembers going up in a Tiger Moth on three occasions to fly acrobatics, which was a thrill.
Another thrill was meeting her future husband Ken Lowen, whose family farmed near Horseshoe Canyon.
He was an inspector of tanks at the time and was going with a neighbour's daughter back home. She remembers him bike riding past in the camp to work. They met at social events.
He left after they met, but returned in 1945 before the end of the war.
He returned home, but the relationship lasted three years through letters. He had also proposed.
In 1949, Kathleen finally made the trip over to "see Canada before I was married.
"My mother didn't want me to come because it was a mining town and mining towns were terrible places," said Kathleen.
It was an arduous trip for the 29 year old to make all alone, even though her future father in law sent for her in first class.
"That train trip from Halifax to Edmonton was horrible," she chuckles.
The trip took about five days, and when she arrived in Edmonton, she waited for Ken to arrive. They stayed in Edmonton, and then boarded another train to Calgary, and then took the bus to Drumheller.
It was in the evening, and she never got a good look at Drumheller until the next morning. It was March and the ground was covered in snow.
One of her in-laws' neighbours picked them up from Drumheller to take them to the family farm near Horseshoe Canyon.
"I was never homesick," she said.
They were in Canada for 13 months before they tied the knot. They raised two children in the community.
In Canada, both continued to be active in support of veterans. She joined the Ladies Auxiliary in 1955, and is currently president. Doris Poland's mother brought her into the fold. She is also a regular member of the Legion. She remembers putting on all kinds of fundraisers including bake sales and selling poppies.
Today Kathleen is 92. Her husband passed away about eight years ago. There are still about five members of the Ladies Auxiliary, and today Kathleen still proudly wears her uniform, emblazoned with a "lifetime membership" patch, with pride – pride in her service to community and country.